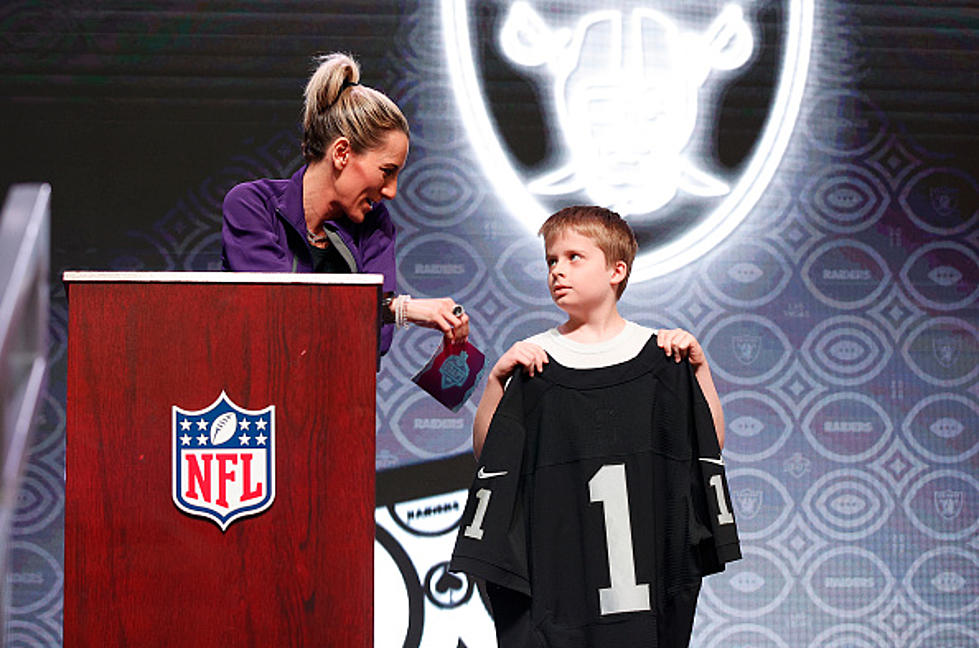 The Team's NFL Draft Guru Breaks Down 104.5 Mock Draft 2023
Getty Images
The Team's NFL Draft Expert, Intern Mike Giarraputo, put together the First Round picks in the 104.5 Mock Draft 2023. Giarraputo breaks down each team's needs and their round one pick. The NFL Draft prodigy even predicts a few trades. Let's see how Mike Giarraputo breaks down all 31 first round picks in 2023.
1. Carolina Panthers (from CHI)
Bryce Young, QB, Alabama
As we've come closer to Draft Day, it has become increasingly known that the first pick of this year's draft will be Young. The Alabama QB canceled his remaining visits just a week after a visit with Carolina and is now a -1400 betting favorite to land with the Panthers. While there are some reservations about Young's small frame, he more than makes up for with his elite processing, escapability, and accuracy at all three levels. Young tends to be the highest rated QB in this class after two incredible seasons starting for Alabama, including a Heisman winning campaign in 2021. With Young, the Panthers will likely look to start him on Day-1, in a winnable NFC South.
2. Houston Texans
Will Anderson Jr, EDGE, Alabama
The Texans are in a very interesting spot with this pick. The word around the league is that the only quarterback that Houston legitimate interest in is Bryce Young, which will cause the front office to pivot to Anderson, who many see as the best defensive player in this year's class. DeMeco Ryans, the now head coach of the Texans, also played his college ball at Alabama. Barring a trade back for a quarterback needy team, you should fully expect the Texans to go defense with this selection.
3.Tennessee Titans (from ARI)
C.J. Stroud, QB, Ohio State
Our first draft day trade comes with Tennessee moving up eight spots to take their quarterback of the future. The Cardinals have been open about the fact that this pick is available for the right price. According to NFL Network's Daniel Jeremiah, the Titans have already spoken to Arizona about a potential trade. With Ryan Tannehill turning 35 in July, now would be the perfect time to grab his replacement. Stroud just capped off an incredible career at OSU, which included a superb 7-1 TD-INT ratio and a 21-4 record as a starter. Despite leaving school after a loss to Georgia in the Peach Bowl, Stroud left no doubts as to his incredible ability and decision making.
4. Indianapolis Colts
Will Levis, QB, Kentucky
Indianapolis has been linked with Levis heavily in these last few weeks leading up to Thursday and if he's on the board I believe that the Colts will waste no time in making him the selection. Levis is coming off a disappointing senior campaign but it hasn't appeared to affect his draft stock. After two years as the starter for the Wildcats, Levis is certainly a project, but with his undeniable arm talent and pretty deep ball, Indy seems to be willing to take on the challenge of developing Levis into their next Quarterback.
5. Seattle Seahawks (from DEN)
Anthony Richardson, QB, Florida
Rounding out the top 5 may be the most tantalizing prospect in the entire class. At 6' 4", 230 lbs, Anthony Richardson certainly has all of the physical tools to be a star in the NFL. Richardson set new quarterback combine records in both the broad jump (10 feet, 9 inches) and vertical jump (40.5 inches). He also ran a blazing 4.43 40 Yard Dash, which is second only to Robert Griffin III's 4.41 run in 2012. But where the questions emerge with Richardson are his short and medium passing accuracy. He completed just 54% of his passes in his final season with the Gators. According to Sports Information Solutions, he ranked 95th in catchable rate (79.8%) and 106th in on-target rate (65.4%) among 114 FBS quarterbacks who attempted at least 200 passes last year. While he is being touted as the most athletic QB prospect of all time, Seattle will have their work cut out for them in developing the Gators QB. With Geno Smith as the starter for the foreseeable future, it will likely be at least a year or two till we see Richardson playing any meaningful snaps.
6. Detroit Lions (from LAR)
Devon Witherspoon, CB, Illinois
After dealing former third overall pick Jeff Okudah to the Falcons, it would make the most sense for Detroit to find his replacement in Witherspoon. With numbers that almost seem fake, the Illinois product allowed just a 5.2 QBR, 0.46 coverage yards per snap, and just a 30% completion rate when targeted last season. In my mind, he is the clear and obvious choice for the Lions at 6.
7.Las Vegas Raiders
Tyree Wilson, EDGE, Texas Tech
Wilson is one of the few can't miss prospects in this year's draft. At 6' 6", 275 lbs, he is an absolute force on defense. Wilson is a freak athlete and I wouldn't be totally shocked if he was off the board at 2. It'll be very interesting to see where he lands on Draft Day. Whoever ends up with Wilson is getting a surefire Day 1 starter.
8. Philadelphia Eagles (from ATL)
Jalen Carter, DL, Georgia
While some legal troubles have slightly dropped Carter's value on boards around the league, the talent he possesses is undeniable. He pleaded no contest to reckless driving and racing, for his involvement with an accident that resulted in two people being killed. Carter led the nation's number one defense in his Junior season earning first-team Associated Press All-American and all-conference honors. The Eagles will be more than willing to move a day 2 pick in order to secure Carter. As a prospect he leaves little to be desired, adding to an already stacked Eagles defensive front.
9. Chicago Bears (from CAR)
Paris Johnson Jr, OT, Ohio State
The first offensive linemen off the board, Johnson is everything teams want out of a prospect. Johnson was at right guard in 2021 before finding his home at left tackle for the Buckeyes in his final season. A familiar face for Justin Fields and much needed help on the O-Line for Chicago.
10. Atlanta Falcons (from PHI)
Bijan Robinson, RB, Texas
One of the most interesting storylines in the draft is where Bijan Robinson will end up. Arguably the best prospect in the entire class, Robinson would step into any situation and make an offense significantly better. At Texas, Robinson put up video game numbers. A 39% missed tackle rate in his final season while averaging 136 scrimmage yards and racking up 41 touchdowns in his 31 games with the Longhorns. Robinson's combination of strength, power and speed is one that teams haven't seen out of a prospect since Saquon Barkley. For Atlanta, he joins a backfield of Tyler Allgeier and Cordarrelle Patterson. It won't be long before Robinson takes over.
11. Arizona Cardinals (from TEN)
Peter Skoronski, OT, Northwestern
After trading back with the Titans, the Cardinals take the best offensive linemen on the board. Skoronski would be an immediate starter on this line and would likely be on the right side of the line as the Cardinals already have their starting left tackle in D.J. Humphries.
12. Washington Commanders (from HOU)
Christian Gonzalez, CB, Oregon
Washington moves up four spots with Houston to grab the Oregon CB. Washington can surely use more help at corner and Gonzalez is the clear top option on the board. After two years at Colorado, Gonzalez moved to Oregon for his Junior season and shined. His athleticism, length, and football IQ make this pick a slam-dunk for Washington.
13. Green Bay Packers (from NYJ)
Jaxon Smith-Njigba, WR, Ohio State
The consensus number-one receiver in the class goes to the Packers at #13. Green Bay appears to have made it a point to move up the two spots in their trade with the Jets in order to have a better chance to draft their guy. JSN played just three games in his final season with the Buckeyes but his 2021 campaign was one for the ages. In that season, he led a receiving group that included Garrett Wilson, Chris Olave and Marvin Harrison Jr. in yards by a near 600-yard margin. Smith-Njigba has tremendous ability to separate at the top of his routes and is excellent wherever he lines up on the field. GB needs to surround Jordan Love with weapons immediately to get a clear picture of what they have in their young quarterback. JSN is the perfect weapon for the first-year starter.
14. New England Patriots
Broderick Jones, OT, Georgia
Jones is an outstanding athlete for his size. At 6' 4", 315 lbs he ran a sub-5 second 40-yard dash and put on an incredibly impressive combine. In what is likely Mac Jones' last chance to impress, the Patriots will attempt to aid him in protection by getting a franchise left tackle.
15. New York Jets (from GB)
Darnell Wright, OT, Tennessee
After a franchise altering trade that saw New York finally landing Aaron Rodgers after months of speculation, the Jets were forced to move down two spots in the first round. It shouldn't have any impact on their plans. The pick here was always going to be the offensive line. While the Jets will have Becton and Max Mitchell back at tackle, both are coming off season-long injuries. The Jets have learned that it pays to be deep at this position...the hard way. Wright would likely slot-in at right tackle with Becton on the left.
16. Houston Texans (from WAS)
Joey Porter Jr, CB, Penn State
The third corner off-the-board lands with Houston after a trade down. After going with Will Anderson at #2, Houston continues to build the defense with the addition of Porter. Porter struggled against Ohio State last season but he isn't the only one on that list. He has ideal size for his position and showed significant growth in press coverage in his senior season for the Nittany Lions.
17. Pittsburgh Steelers
Nolan Smith, EDGE, Georgia
Nolan Smith is a name that has climbed up draft boards since the end of the season. Smith was yet another excellent piece on Georgia's back-to-back National Championship defenses. According to Jeremy Fowler, Smith isn't expected to get past the Steelers at this pick. Smith's build and level of athleticism compares to a guy like Micah Parsons. This would be a major boost to Pittsburgh's already stellar defense.
18. Detroit Lions
Calijah Kancey, DL, Pittsburgh
Detroit will look to continue to improve on what was 2022's worst defense in all of football. One of the more interesting defensive prospects in the entire draft, Kancey comes at a rare size but makes up for it in pure toughness and strength. Kancey at 280 pounds is just 6' 1". Some concerns lay with how he'll translate to a bigger quicker NFL. There is certainly hope with Kancey, as we can recall another 6' 1" 280 pound D-lineman out of Pittsburgh translating pretty well for the Rams.
19. Tampa Bay Buccaneers
Myles Murphy, DL, Clemson
If Joey Porter is still on the board, the Bucs will go that direction. However, with the top three corners taken, they'll likely pivot to the defensive line. Murphy, at 6' 5" 275 lbs, is an exceptional athlete and incredibly versatile on the defensive line. The Bucs are in desperate need of someone on the edge, and if he's available Tampa Bay will sprint to the podium.
20.Seattle Seahawks
Lukas Van Ness, EDGE, Iowa
After moving from the interior of the defensive line to the edge, Van Ness saw a massive uptick in his production. At 6' 5", 270 lbs, Van Ness ran a sub 4.6 40 yard dash and impressed many teams at the combine. He's gotten buzz as a top 12 pick, with teams like Philly being mentioned. Ultimately, Seattle gets a guy who can immediately contribute on defense to pair with their Quarterback of the future in Richardson. Overall, a pretty good night for Seattle.
21. Los Angeles Chargers
Zay Flowers, WR, Boston College
Why not? LA adds yet another name to an already loaded receiving core to work with Justin Herbert. Flowers had the most productive season of his career in 2022. His electric speed and extensive route tree is certainly something that is sought after. There are concerns about his size, as he stands at just 5' 9". If used correctly, Flowers can take on a role similar to a guy like Mecole Hardman or Tyler Lockett. The Chargers, while not necessarily needing Flowers, are only looking to keep up with an AFC that is loaded with offensive talent.
22. Baltimore Ravens
Jordan Addison, WR, USC
Well, it only took an ongoing Lamar Jackson holdout, for the Ravens to actually surround him with talent, at receiver. Addison adds to a recently signed Odell Beckham, and Rashod Bateman at receiver and go with the flashy receiver out of Southern Cal. Addison is coming off a somewhat disappointing junior campaign, but his sophomore season at Pitt speaks for itself. He earned himself the Biletnikoff Award as he racked up 1,593 Yards and 18 Tds with Kenny Pickett at the helm. Addison absolutely possesses the talent to be a number one receiver in this league, and he would truly complete this Ravens core.
23. Minnesota Vikings
Emmanuel Forbes, CB, Mississippi State
The Vikings absolutely need to address corner in this draft and what better time to do it than the first round! A woeful Vikings secondary was exposed by just about… well, every quarterback they played last season. How bad was it? Daniel Jones had 3 games above 230 yards passing last season, two of them came against Minnesota. Not a shot at Jones, but you can understand the point. Forbes has a nose for the ball, with 14 interceptions and 6 pick-sixes in his collegiate career. The Vikings have legitimate interest in quarterback Hendon Hooker, but taking him at #23 would be a bit early.
24.Jacksonville Jaguars
Brian Branch, S, Alabama
In a conference with Pat Mahomes, Joe Burrow, Josh Allen, Aaron Rodgers, Justin Herbert and Lamar Jackson it can never really hurt to spend a pick on defense in this spot. The Jags are already loaded on offense, so expect them to go defense here. With Branch, the one word that comes to mind is: versatility. While some improvement can be seen with his man coverage, if used correctly he can be a dominant safety for Jacksonville.
25. New York Giants
Quentin Johnston, WR, TCU
The run on receivers continues here. Quentin Johnston is arguably the most physical wideout in the draft class. Johnston had a prolific 2022 campaign, where his elite combination of size and speed were on full display. Quentin Johnston could slide into the X receiver role for the Giants like a glove. If the Giants want Daniel Jones to take the next step in his progression, rounding out the offense with this final piece is the right move.
26. Dallas Cowboys
Steve Avila, OG, TCU
The Cowboys don't necessarily have any glaring needs on the roster but they could definitely use a guard on the left along with Tyler Smith. Steve Avila is a back-to-back All American and his large frame would make an instant impact on this Cowboys O-Line.
27.Buffalo Bills
Drew Sanders, LB, Arkansas
While Bills fans may want the shiny-toy in a guy like tight end Michael Mayer or a receiver like Jalin Hyatt, Buffalo still has other needs. GM Brandon Beane has yet to truly replace linebacker Tremaine Edmunds and this spot in the draft would be the perfect way to do so. Sanders is an excellent pass rusher along with being tremendous off the ball. He did this while making the transition to being an off the ball linebacker in his final season at Arkansas. Buffalo should resist the temptation of another offensive weapon and draft for need in this spot.
28. Cincinnati Bengals
Michael Mayer, TE, Notre Dame
One could argue that Cincy should look to the secondary with this pick. Not sure who would disagree with that. Michael Mayer however, would slot in immediately with Hayden Hurst and be another big body that could contribute, not only in the Red Zone, but also in pass protection. Mayer has an elite blend of size and pass catching ability. Cincy makes this pick and adds another weapon to an already loaded offense.
29. New Orleans Saints (from DEN)
Bryan Breese, DL, Clemson
Breese would come in and be a Day 1 starter for the Saints. His size and natural athleticism are both things to love. The Saints replace David Onyemata, who left for Atlanta, with the Clemson product.
30. Philadelphia Eagles
Deonte Banks, CB, Maryland
While Philadelphia is notably in win-now mode, it is important that they get younger at cornerback at some point. Slay is entering his age 32 season. James Bradberry turns 30 in August. Deonte Banks has good length and can play in just about any system he's thrown into. Philly looks to the future of their secondary with their second pick of the round.
31.Kansas City Chiefs
Anton Harrison, OT, Oklahoma
The Chiefs conclude the first round by taking Anton Harrison. The offensive lineman would likely move to the right side, as the Chiefs recently signed Jawaan Taylor to a 5-yr $80M contract this offseason. The Chiefs complete their offensive line by selecting the first-Sooner off-the-board.
That is the first round of the 2023 NFL Draft as written by 104.5 The Team Draft Guru, Mike Giarraputo. Mike is an intern on The Drive with Charlie & Dan out of Siena College. We'll see how Mike does and evaluate his draft on the show on Friday. The Drive with Charlie & Dan will be at Katie O'Byrnes in Schenectady for the draft on Thursday starting at 3pm.
SPAC Confirmed: These Artists Will Play Saratoga In 2023
25 dates have been confirmed and are either on sale or about to go on sale for the 2023 season at Saratoga Performing Arts Center. Here is your complete guide.
2023-2024 Capital Region Concert Calendar
This Concert Calendar is updated regularly so keep checking back for the latest!
Abandoned New York Mansion with Left Sports Car In Garage
Everything was left behind in this Upstate New York mansion and I mean everything. Pianos, arcade games and wait until you see the classic car left in the garage.