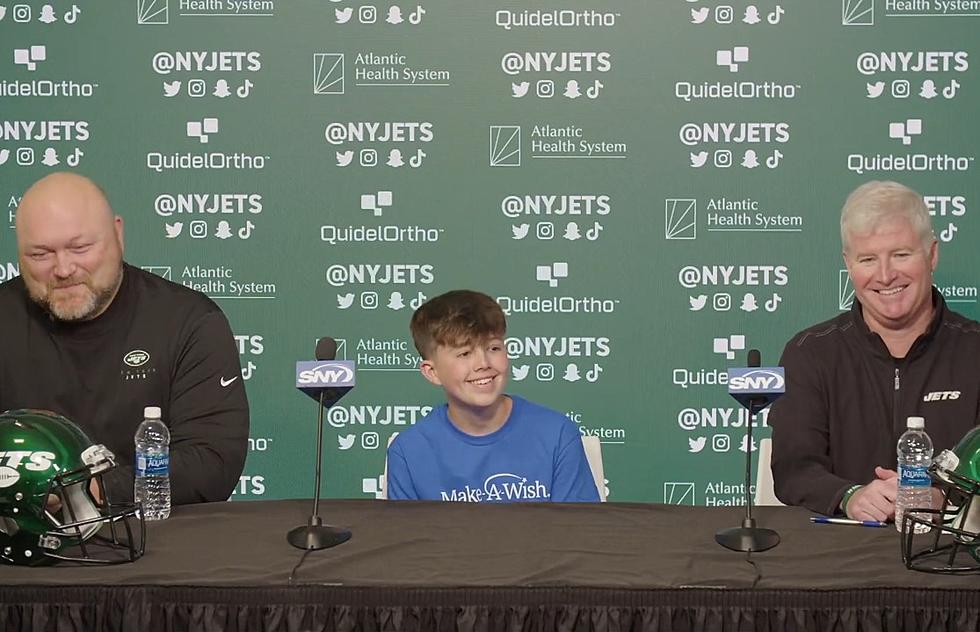 Upstate New York Teen to Get Opportunity of a Lifetime at 2023 NFL Draft
Twitter (@NYJets)
Thursday night, dreams will come true on-stage at the 2023 NFL Entry Draft. During the first round of the draft, 31 college football players will hear their names called, and will take the stage alongside NFL Commissioner Roger Goodell and other front office members from their new team.
The players, however, aren't the only ones who will see their dreams come true on Thursday night.
---
13-Year Old Kyle Stickles, of Ghent, NY, is Set to Live His Dream at The NFL Draft
A story from ABC News 10 in Albany introduced us to 13-year old Kyle Stickles, a resident of Ghent, New York, which sits in Columbia County. Kyle is a massive fan of the New York Jets, and through the Make-A-Wish Foundation, is set to live his dream on Thursday night at the 2023 NFL Draft.
Kyle will be responsible for announcing the Jets' first-round draft selection, which currently sits at 15th overall, after the team swapped first-round picks in the trade that sent Aaron Rodgers to New York.
Check out Kyle in a press conference earlier this week alongside Jets' front office personnel:
Spectrum Local News shared details on Stickles' condition back in 2021. At just 11 years of age, he was diagnosed with osteosarcoma, a rare form of bone cancer. The journey began with a harmless trip to the doctor to help diagnose pain that Kyle, an avid baseball player, had been experiencing in his leg.
It ended with a diagnosis that shook the Stickles family to their core. Kyle spent 97 days in the hospital at Albany Medical Center, went through months of chemotherapy, and thankfully, was given the news that he was in remission.
His fight inspired many in the Capital Region community, as well as the football community, to rally behind him and support him however they could. Check this video out:
Two years later, and miraculously, Kyle Stickles is set to become a superstar on-stage at the 2023 NFL Draft.
He's had a busy week leading up to the draft, as well. News 10 noted that he spent time at the Jets' training facility earlier this week, and even got the opportunity to play catch with his favorite player, wide receiver Garrett Wilson.
So, as you're getting set to watch first round coverage of the 2023 NFL Draft tonight, be mindful of when the New York Jets are making their draft selection. You'll see Kyle Stickles, a hero in the Capital Region at just 13 years old, take the stage and, more than likely, steal the show.
Good luck, Kyle!
Swing and a Miss! Ten Massive New York Sports Draft Busts
For every draft boom, there is a draft bust, and some of the largest draft "busts" have taken the stage wearing a New York sports team's logo. Here are ten busts.
'Kick Off' Your Fall With These Five Must-Visit New York Football Destinations
Football season is upon us, and every Upstate New York football fan should add these five destinations to their list of must-visits in the fall of 2022.