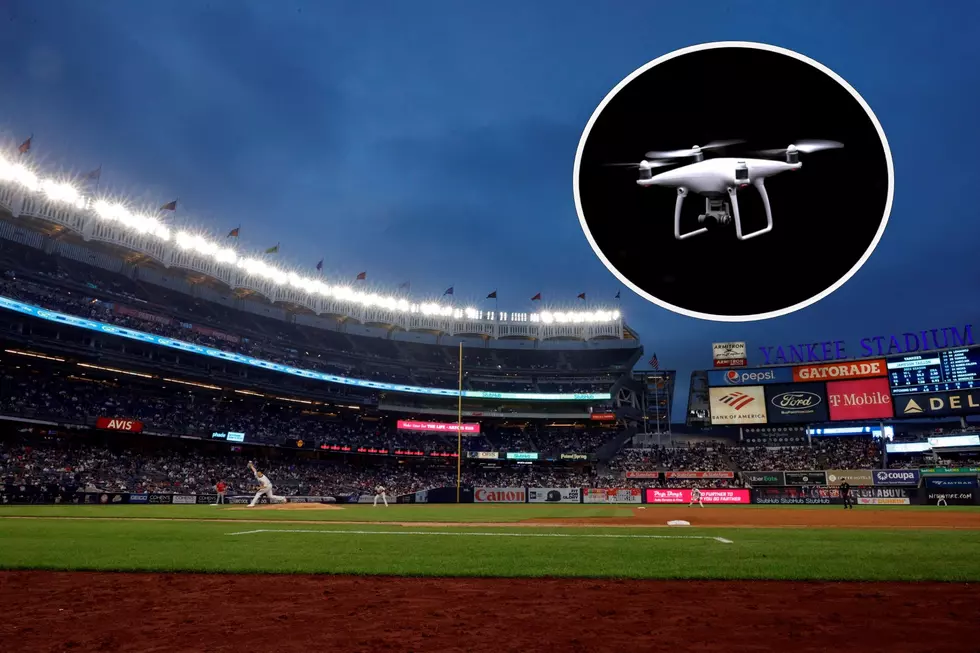 This Bizarre Sighting Has Led Police to Investigate at NY's Yankee Stadium
Getty Images / Unsplash
The rivalry between the New York Yankees and Boston Red Sox is usually interesting enough on its own.
Whether it's walk-off hits, full-team brawls or chants of Who's Your Daddy, a series between the Yankees and Sox is almost certain to turn heads in the baseball world. That said, it's also a rivalry that is not without its share of controversy, and another controversial chapter was added last weekend.
The reason? A mysterious sighting in the sky above Yankee Stadium, one that has led to a police investigation.
---
Police Called In to Investigate Strange Sighting at Yankee Stadium
According to a report done by Syracuse.com earlier this week, New York City police were called in to investigate a mysterious drone that was seen flying above Yankee Stadium, during this past Saturday's game between New York and Boston.
The initial claim was made by NJ.com, who published this video on their website and YouTube page following the game:
As you can see, the video shows a mysterious green light hovering over the stadium. Reports claim that the light remained positioned over the stadium for approximately 15 minutes, before disappearing into the night.
The police were called, and it appears as though the investigation is still ongoing, as no updates have been given on the situation, as far as we could find.
Naturally, this headline has caused a bit of finger-pointing between Yankees' and Red Sox fans. Both teams' fanbases were quick to criticize the other when both were involved in cheating scandals during the mid-2010's.
The Yankees were accused of using the dugout telephone system and video replay room in order to decode opposing teams' signs during the 2015 and 2016 seasons. The Red Sox, meanwhile, were accused of using Apple Watch technology as a relay system in order to steal hand signals (from the Yankees, predominantly) in 2017.
So, when the word "cheating" is brought up between these two teams and their fanbases, it usually goes over well.
That all being said, there have been no official accusations that would link this drone sighting to either team. Drones are available to buy around the world, so it's very likely that a nosy fan positioned their drone above the stadium to get a view inside the ballpark instead of buying tickets.
That said, there is still a chance that evidence could be found that links the drone to one of the teams playing in the game at the time. If that ends up being true, there will be serious trouble for the offending team.
Bronx Bound? Ten Trades That Could Bring the NY Yankees a Title
The NY Yankees have a great team, and a few tweaks could bring them a World Series title. Ahead of the Trade Deadline, these ten players would be great fits.
Re-live The Glory Days with This Old Yankee Stadium Virtual Tour
The "Old" Yankee Stadium may be gone, but plenty of photos and videos of the classic ballpark still exist. Re-live its history and lore through this virtual tour.