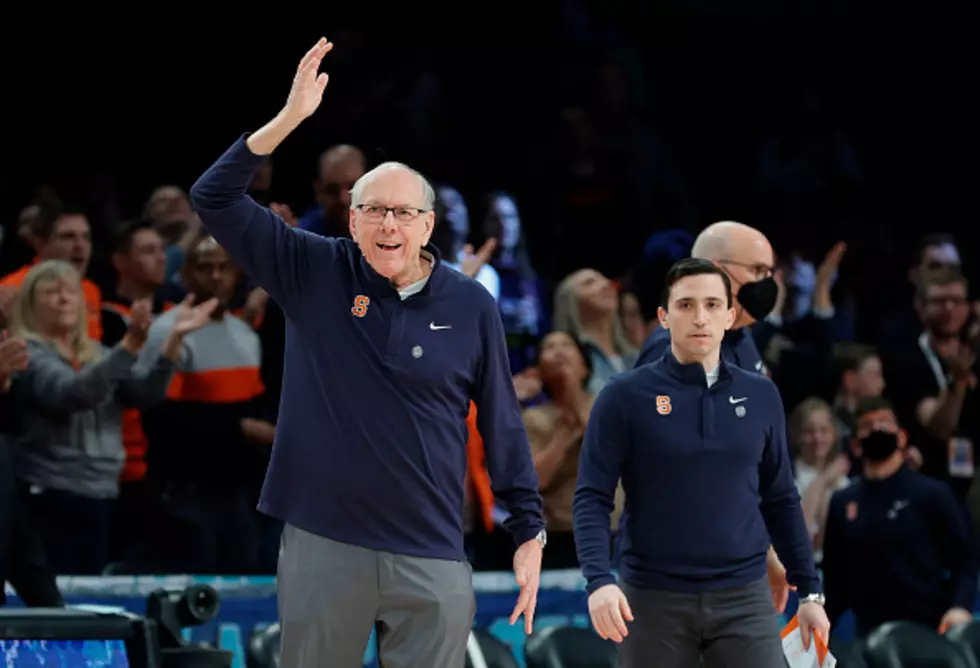 What Is Wrong With The Syracuse Men's Basketball Team Right Now?
Getty Images
It has not been a good start to the season for the Syracuse men's basketball team.  They currently sit at 3-4 overall and just lost a game by 29 points to Illinois out of the Big 10 conference on Tuesday night.  Syracuse plays in the ACC and should never be losing by 29 points.  Jim Boeheim is coming off of one of his very few losing seasons ever at Syracuse.  It is crazy to think he is now in year 44 as the head coach of the Orange.  He has had a tremendous career as their head coach but this season will be a struggle.  I continue this discussion in my quick take from The Times Union:
It's going to be a long season for the Syracuse men's basketball team. Unless something drastically changes, Syracuse will struggle because they can't consistently score the basketball. You're not beating a quality opponent like Illinois when Joseph Girard III plays only 20 minutes and doesn't score. JGIII only took three shots and only one three pointer against the Illini. The Glens Falls grad is a scorer and still gives SU it's best chance to win games this season. The roster has plenty of holes, but Girard has to make threes because I don't see who else is going to produce the points from the behind the arc. Let's face it, to win these days, you have knock down shots from long range.
MJ and Lexi Swatt discussed the Syracuse blowout loss yesterday right here on Big Board Sports.  I finally made my return back today from being Rodg on the road with UAlbany Men's Basketball.  Below is their conversation on this.
I really hope Syracuse can turn in around as I have had a great relationship with Coach Boeheim for many years.  Plus, the local product Joseph Girard III is a senior this season.  I always root for the Orange to have success each season.
These are the Ten Highest-Rated College Towns in New York
From the quality of living, to the nightlife, to the safety of their students, here are the college towns ranked the best, and worst, in the state of New York.
New York Colleges That Made The Top 50 Most Expensive In America
CBSNEWS.com did a Top 50 Most Expensive Colleges and Universities in America. Let's see which New York colleges made the list.