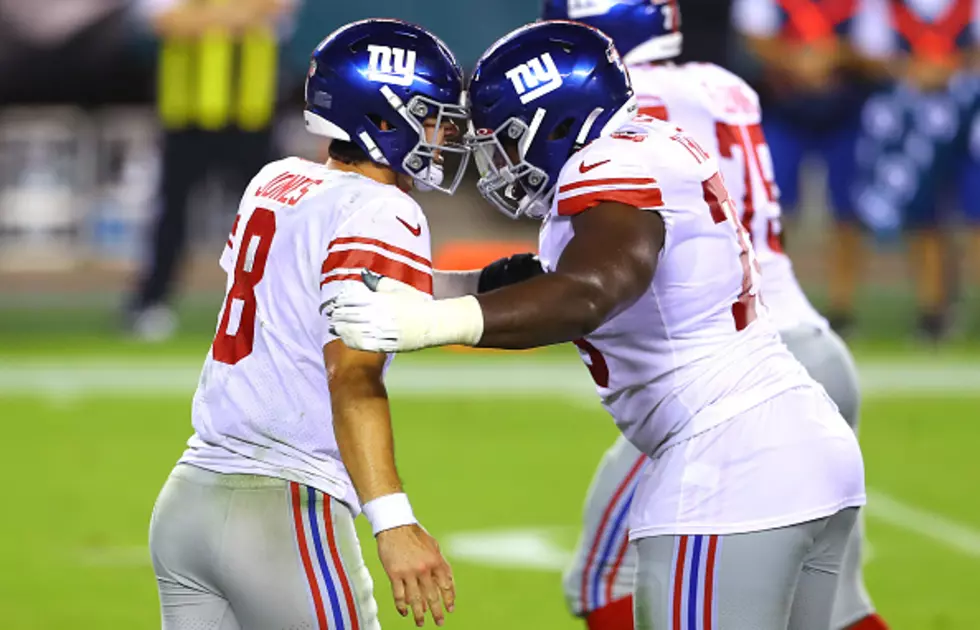 Which Players On Saturday Hold Keys To Championship Weekend?
Getty Images
The old saying goes, "a chain is only as strong as its' weakest link." NFL teams are a lot like chains. Every player is important to their unit's success and there are hardly any weak links when you get into Divisional Playoff weekend. So, let's look at some of Saturday's players that could unlock tickets to next weekend.
If the Jacksonville Jaguars want to have any chance of beating Patrick Mahomes and the Kansas City Chiefs, 2022, Josh Allen is going to have to have a huge game. NO, not the Bills quarterback. The Jags edge-rusher led the team with 7 sacks this season. Allen and the Jacksonville defense will have to find ways to get pressure and hits on Mahomes if they hope to win.
The Kansas City Chiefs will be tasked with slowing down the high-powered Jacksonville offense, led by Trevor Lawrence. The Jags second-year QB thew four interceptions in the first half last week against the Los Angelas Chargers. Chiefs linebacker Nick Bolton led his team in tackles and was third in interceptions in 2022. The second round draft pick in 2021 will be crucial in not allowing Lawrence's favorite outlet, tight-end Evan Ingram, to find the first down markers.
The Giants will have a tough time stopping a potent Philadelphia Eagles offense. The best way for Big Blue to defend Jalen Hurts, AJ Brown and Miles Sanders will be to keep them off the field. Giants QB Daniel Jones and running back Saquon Barkely have to be given the protection and blocking required to grind the clock. The key to that protection will be left tackle Andrew Thomas. The former first round pick is enjoying his best season in the NFL and will need to play his better than that for the G-men to have a chance on Saturday night. The Eagles have 3 players with double digit sacks on the season, including Haason Reddick, who has 16.
The Philadelphia Eagles scored 477 points this season, second to only Patrick Mahomes and the Kansas City Chiefs. Jalen Hurts is a dynamic quarterback with a ton of weapons. The Giants did a great job in shutting down Justin Jefferson of the Minnesota Vikings last week. Cornerback Adoree' Jackson could possibly do the same to AJ Brown. Where will Hurts turn? Vikings tight end TJ Hockenson had a huge game with 10 catches for 129 yards last week, while the Giants were busy covering Jefferson. Eagles tight end Dallas Goedert will play a key roll for Jalen Hurts, if the Giants can shut down AJ Brown and DeVonta Smith. That last part will be a tall task for Wink Martindale and the Giants defense. It will certainly be a fun Saturday. Sunday's key players will be next.
2023-2024 Capital Region Concert Calendar
Updated regularly so keep checking back!
Every Country Artist Performing In Upstate NY In 2023
We are set for a big year of Country shows in 2023, and here is a complete list of artists already scheduled to perform in the year ahead in the Capital Region and all over Upstate New York. Don't miss your favorite Country stars - keep checking back here as we will be adding lots of shows in the weeks and months ahead.
Hiker Locates Place Crash in Catskills from 1983
According to legend, the Catskill Mountains are littered with wreckage from plane crashes - but they're not easy to find! But Connecticut resident Keith Thomas told us he hiked the muddy 9.5-mile trail to locate it, and once he did, he was "glowing!"