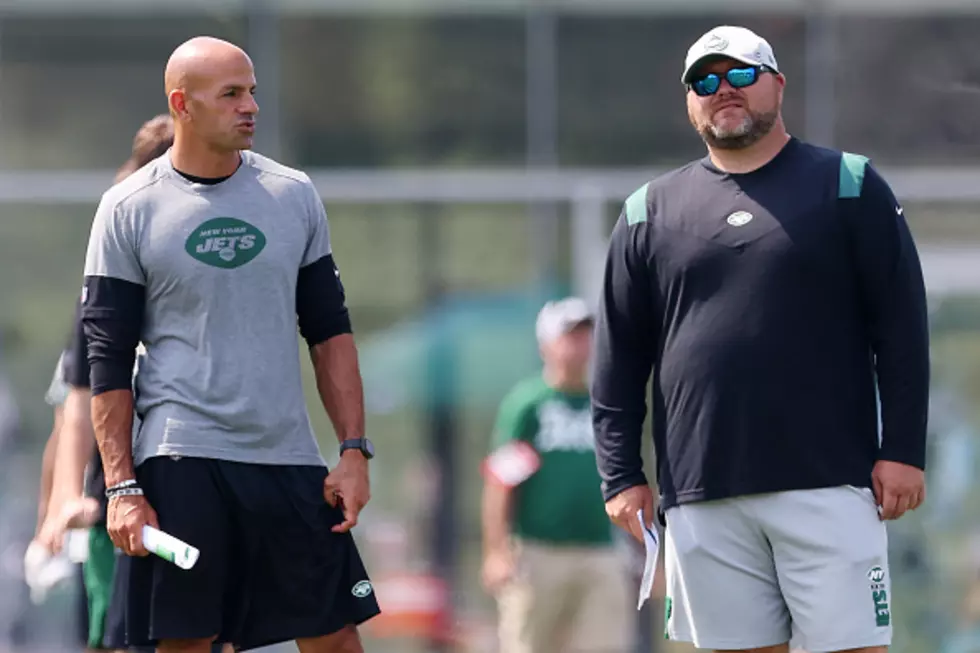 Who's At Fault For New York Jets Failure At Quarterback?
Getty Images
The New York Jets maintain the longest absence from post season in the NFL. However, at the start of the season, no one realistically thought that the Gang Green would go from a 4-win team in 2021 to a playoff franchise in '22. Expectations were: anything under 7-wins this year would be a failure for general manager, Joe Douglas and head coach, Robert Saleh. Wins weren't the area of failure this year. The quarterback position in its entirety takes that award. Someone in the Jets organization is to blame.
It's no secret that Zach Wilson was not ready for the NFL in 2021 or in 2022, but who convinced Joe Douglas and Robert Saleh that rookie would be? Did both the GM and the head coach feel that Wilson was a can't miss? Was it Jets director of college scouting, Jon Carr that convinced the Jets braintrust that the quarterback out of BYU was ready to handle the pressure of a New York team that hasn't gone to the playoffs in a decade? What about the rumors that Wilson almost lost his starting job at BYU or that fact that the Cougars played a weak FBS Independent schedule? Didn't those issues send up red flags to the GM and head coach prior to the draft?
OK, let's just say Zach Wilson was talented but raw and needed to learn from experience. Did the Gang Green braintrust believe that the old curmudgeon, Joe Flacco, would somehow mentor Wilson to success? Seriously? When Douglas and Saleh saw how that combo worked out in 2021, they somehow thought an encore in '22 would be a good idea? As the GM, this was a major failure by Joe Douglas.
2018 fifth round draft pick by the Dallas Cowboys, Mike White has been a great story. White has provided Jets fans with some thrills and excitement. The QB out of Western Kentucky University may end up being a better story, if he can stay healthy. But is it realistic to think that all of the sudden, after 5 seasons bouncing from NFL rosters to practice squads, Mike White is somehow going to lead the Jets to prosperity? That seems to be the same mindset that drafted a quarterback based on projected potential with very little experience against the toughest competition.
Joe Douglas sent the Jets organization backwards by drafting Zach Wilson with the second selection of the 2021 NFL draft. He further compromised the team by not surrounding Wilson with a quality backup to compete with during the rookie's first training camp. Douglas further damaged the team by not improving that backup situation in year 2, all seemingly in fear of hurting Wilson's confidence. That appears to be the same reason Mike White did not start the season, as the starting quarterback, after Zach Wilson got hurt.
Joe Douglas has done a decent job improving the Jets since taking over as general manager in 2019 (when his old friend and Jets fans' nightmare, Adam Gase was the head caoch). However, Douglas hasn't just mishandled the quarterback position, he has destroyed it. Had the GM not worried about a hurting a player's feelings, the Jets would likely be in the playoffs. Joe Douglas failed the organization at providing stability at the most important offensive position on the field. Tough to keep your job with that line of decision-making.
New York Airbnb with HUGE Indoor Pool
Swim year-round in this 2,000 square foot indoor pool in Gloversville, NY.
Every Country Artist Performing In Upstate NY In 2023
We are set for a big year of Country shows in 2023, and here is a complete list of artists already scheduled to perform in the year ahead in the Capital Region and all over Upstate New York. Don't miss your favorite Country stars - keep checking back here as we will be adding lots of shows in the weeks and months ahead.
Abandoned Catskills Resort Decimated By Fire
The abandoned New York vacation destination, Brown's Resort in the Catskills had been converted into a condo complex. In 2012 the property caught on fire and this is what was left.