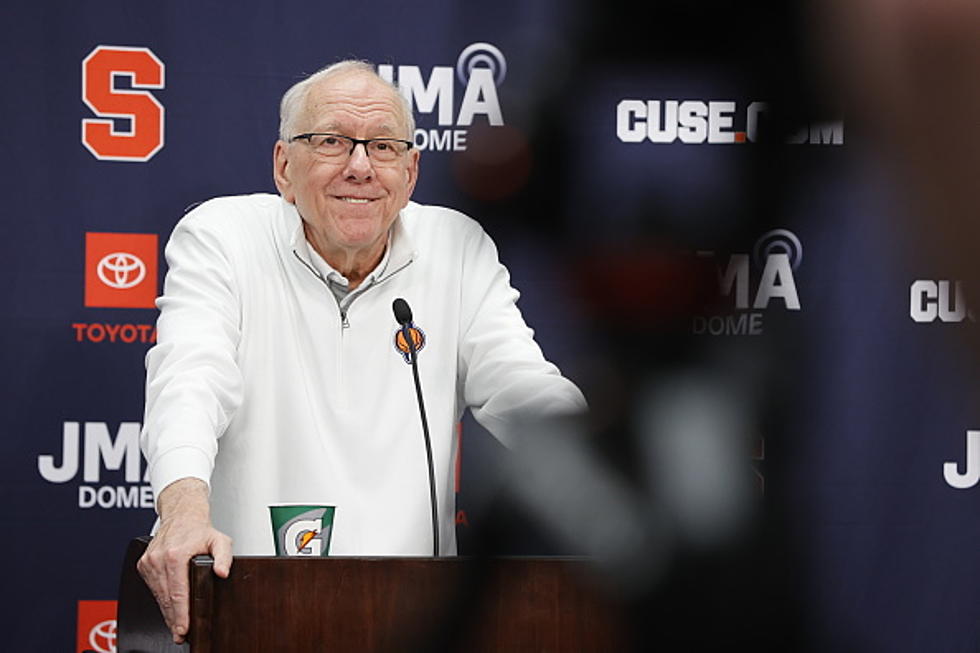 Why Did Syracuse Have To Force Boeheim To Leave?
Getty Images
'Thank you but we'll take it from here' was the message to a legendary college basketball coach with the second most collegiate wins ever. Jim Boeheim's 47-year coaching career put Syracuse basketball on the map. However, Boeheim's tenure wasn't without controversy, including its ending.
Following a last-second 77-74 loss to Wake Forest, it was abundantly clear in the post-game press conference that Jim Boeheim wanted to return next season.
Boeheim told ESPN.com, "As I've said from day one when I started working here, the university hired me, and it's their choice what they want to do...I always have the choice of retirement, but it's their decision as to whether I coach or not. It always has been." So, why wouldn't Syracuse University allow their storied coach to do a one-year farewell tour, like Duke did with Mike Krzyzewski?
The simple answer is that for the last few decades, Jim Boeheim has never let Syracuse University officials do anything on the institution's terms, why start now? For the last 10 years, Boeheim alluded to iron-clad transition plans for his pending retirement, only to watch each be explained away with distain for questioning him. Sometimes collegiate institutions and coaches need to go their separate ways. Coaches take ownership of a program. Institutions look at athletics as a piece of the puzzle. Sometimes those perspectives aren't good for one another. After 47 years, Syracuse saw the value of a change and made a decision. I am sure they wished their coach would have gracefully accepted their plan. However, in true Boeheim fashion, he made the university publicly push him out the door.
Jim Boeheim has been a winning basketball coach and a mentor to many Syracuse Orange players. However, in 2015 the NCAA vacated 101 of Boeheim's victories for over a decade of violations that included academic misconduct, extra benefits to student-athletes and misconduct involving the university drug testing policy. Over the last year, the legendary coach has become increasingly combative with the media. None of this is good for a university that houses one of the top sports media programs in the country. It was time for Syracuse University to step-in and give their basketball program a fresh start.
Adrian Autry, who played four seasons for Boehiem was the administrations long-time choice to take-over. "There have been very few stronger influential forces in my life than Syracuse University and Jim Boeheim. They have both played such important roles and without either of them, I am certain I would not have this incredible opportunity before me," Autry told ESPN.com. Best of luck to Coach Autry and the new era of Syracuse Basketball that started on Wednesday night.
Every Country Artist Performing In Upstate NY In 2023
We are set for a big year of Country shows in 2023, and here is a complete list of artists already scheduled to perform in the year ahead in the Capital Region and all over Upstate New York. Don't miss your favorite Country stars - keep checking back here as we will be adding lots of shows in the weeks and months ahead.
Should We Believe These Ten Odd New York Football Rumors in 2023?
Rumors are flying as we enter the 2023 NFL offseason, and with these ten New York football rumors, we're left asking this question: do we believe them, or not?
Top 25 Wooden Roller Coasters In the World
New York State has 2 wooden roller coasters that rank as 'Best In the World'. Here's the top 25!