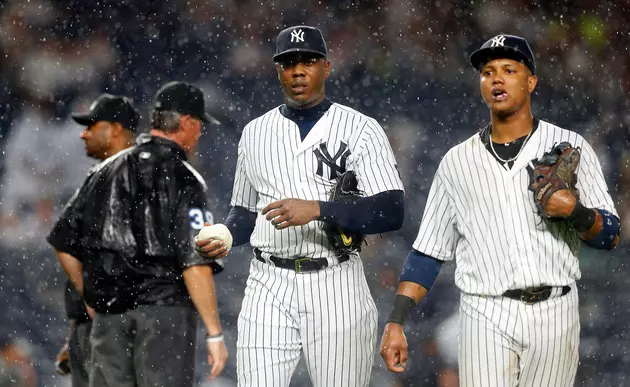 Yankees Lose Late In Soggy Bronx
Credit: Jim McIsaac/Getty Images
Monday night showed us another way in which the Yankees can lose. With a 6-5 lead going into the ninth inning, Aroldis Chapman entered the game to seal the deal as the Yankees looked to take the first game of their series against the Texas Rangers. Then the skies opened up.
After a 3 hour 35 minute rain delay, play resumed, and the Yankees seemed checked out as they gave up 4 runs in the top of the frame.
Needless to say, Joe Girardi was not happy that the game was continued after the lengthy delay.
"I didn't ask to stop the game," Girardi said. "To me, the game should've been stopped earlier than that. We played in horrible conditions. I think you risk injury to players," he said. "It's hard for me to understand what happened tonight, how it got to this point. But it did, and we lost."
The game ended at 2:44 a.m.; the latest finish of any game at the new Yankee Stadium. (Reports are there were roughly 100 or so fans left by the time the game resumed). It was the second longest delay in stadium history since play began there in 2009 (There was a 5 hour 30 minute delay before the start of a game against Washington in 2009).
"I think our intention was to finish that game," crew chief Paul Nauert said. "You've got to give both teams an equal, fair opportunity. We were going to wait as long as we could."
Had the game had been called, the Yankees would have won.
"What matters is they allowed this game to be completed," Rangers manager Jeff Banister said after his team's comeback win.
Adrian Beltre had the go-ahead hit in the 9th after the delay off of Kirby Yates. Elvis Andrus followed that up with a 2-run single of his own to give the Rangers breathing room.
The Yankees racked up 16 hits. Mark Teixeira, Didi Gregorius, and Carlos Beltran each had three hits.
The Yankees look to bounce back after the controversial loss against Texas ace Cole Hamels as C.C. Sabathia returns to the bump.