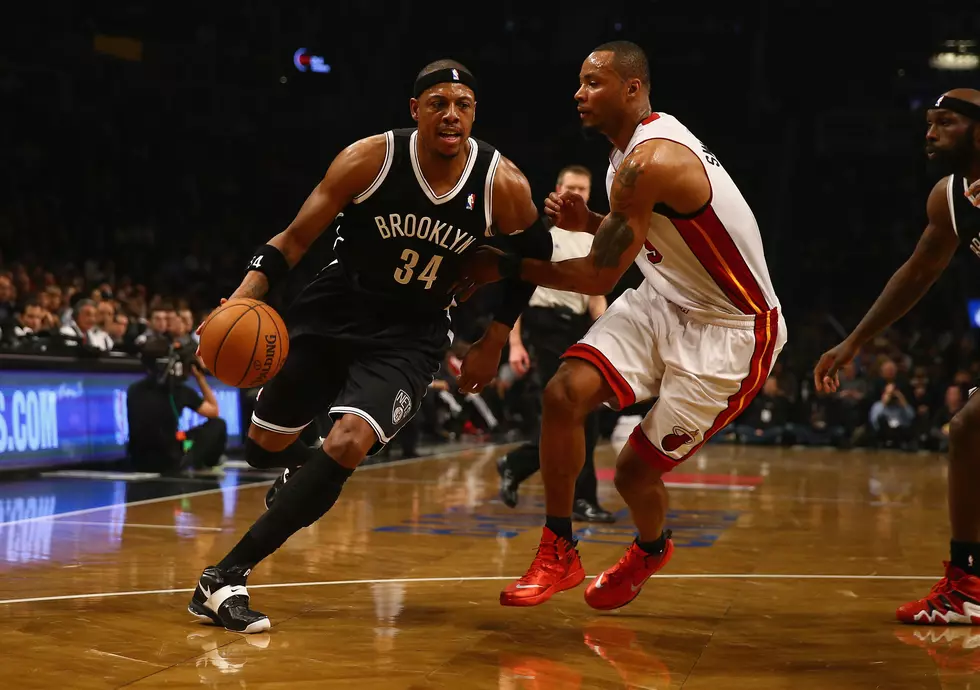 Empire State Sweeps Heat on Miami Road Trip
Getty Images
It was an emotional game in Brooklyn on Friday night as the Miami Heat visited the Barclays Center.
The fireworks occurred midway through the 4th as the Heat had been trailing the majority of the game whenever Lebron James took offense to Mirza Teletovic's hard foul and had to be restrained.
James' was frustrated by the Nets defensive efforts all night. Led by Andrei Kirilenko, the Nets rattled James all night as 'King James' got his 5th foul several minutes remaining in regulation.
With 40 seconds remaining, James missed 1 of 2 free throws and tied the game at 89.
Under 10 seconds remaining, Joe Johnson missed as Shaun Livingston kicked out the rebound. Paul Pierce had a solid look at the basket beyond the arc as time expired and couldn't put it in.
In the first overtime, James fouled out for only the 4th time in his career with 36 seconds remaining. James finished the night with 36 points, 5 assists and 7 rebounds.
The Nets were up by two when Johnson missed a basket. In transition, Norris Cole took it across the court on his own and sunk a tying basket with three seconds remaining in the second OT.
Pierce had another chance for a game-winner but had a tough, contested air ball that sent the game into double overtime.
With no James and Dwayne Wade, Shane Battier and Mario Chalmers on the bench with injuries, the Heat couldn't keep up with the Nets. Brooklyn dominated the second overtime with a 104-95 final.
The Heat had an unsuccessful trip to the Empire State, losing to the Knicks, 102-92, the night before at Madison Square Garden.
The Nets continue their undefeated streak in 2014 and have now won five in a row. With a 14-21 record, the Nets are in 2nd place in the Atlantic Division.
Johnson led the way with 32 points and Livingston had one of the best games of the year with 19 points, 11 rebounds and three timely blocks.
Brooklyn hits the road to take on the Division-leading Toronto Raptors on Saturday night.
Notes:
- The Nets are without Brook Lopez for the year and Deron Williams sat with injured ankles.
- This is the first five-game winning streak of the year for Brooklyn.
-
- Paul Pierce after the game: "We just dedicated ourselves ... and changed our attitude at the New Year."