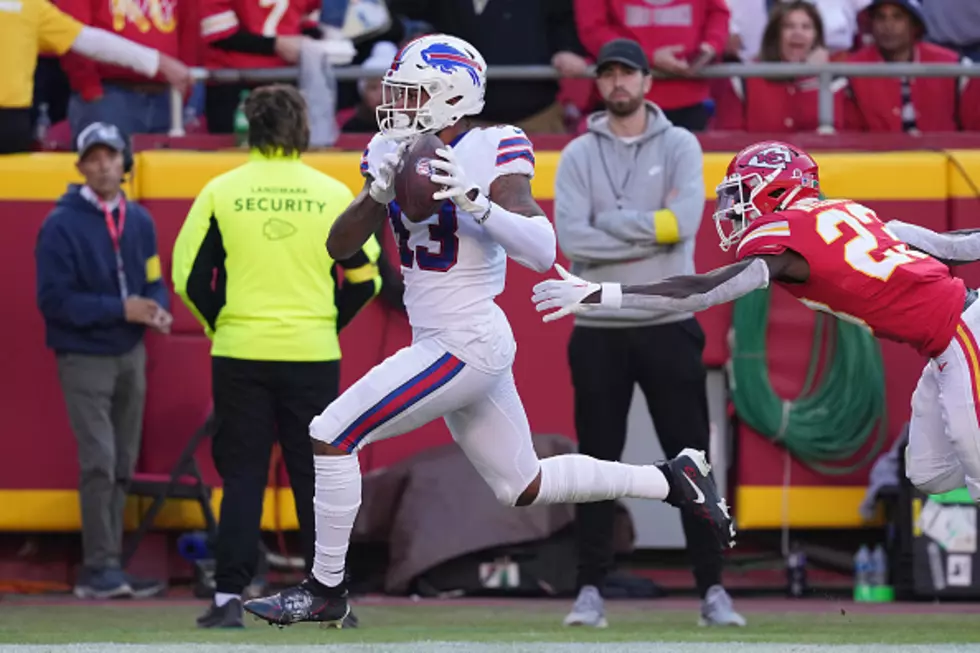 Looks Like Most Bills Fans Don't Want This Player Extended
Getty Images
The Buffalo Bills staff will be down at the 2023 NFL Scouting Combine later this month, which will extend into early March. It will be held at Lucas Oil Stadium in Indianapolis.
The Bills will likely have their eye on a few key positions; ones that fans and media feel they have to address.
Those positions include offensive line, safety and wide receiver.
The Bills only have two wide receivers who are under contract for the 2024 regular season: Stefon Diggs and Khalil Shakir.
There are question marks surrounding the rest of the wide receiver core. Isaiah McKenzie is likely not in the long-term plans, while Jamison Crowder, Jake Kumerow, Cole Beasley and John Brown are all free agents next month.
Gabe Davis is another player who the Bills have to think about this off-season. Davis is heading into the final year of his rookie contract and the decision is coming soon on whether to extend Davis or not.
Bruce Nolan, who is one of the best Bills follows on Twitter, put up a poll on whether or not fans would want the team signing Davis to a new contract, worth an average of $17.8 million per year?
92 percent of the 6,328 votes said "no."
The $17.8 million goes in line with what an great second wide receiver should command, while Spotrac lists Davis' current market value at $12.4 million. His current rookie contract pays him $2.7 million in his final year of that rookie deal.
I think Davis gets more than $12 million per year and that $17.8 million number feels about right.
The Bills will have to decide whether or not they want to invest in Davis as their clear number two WR. I agree with the consensus they should not give him that contract, which means that wide receiver has to be taken in rounds 1-3 of the 2023 NFL Draft.
Best Free Agents Signed By The Buffalo Bills
The Buffalo Bills are gearing up for a run at the Super Bowl next season and some big-time free agents are already reaching out to the Bills looking to join the team. Check out some of the best free agents the Bills have signed in the past.
22 Famous Buffalo Sports Phrases Every Die-Hard Bills and Sabres Fan Knows
Being a sports fan in Buffalo is sometimes like knowing a different language. Here are 22 of our favorite Buffalo sports phrases you already know if you're a huge fan! And if you're new here, here's how to catch up.
Complete List Of Buffalo Bills Available On Cameo