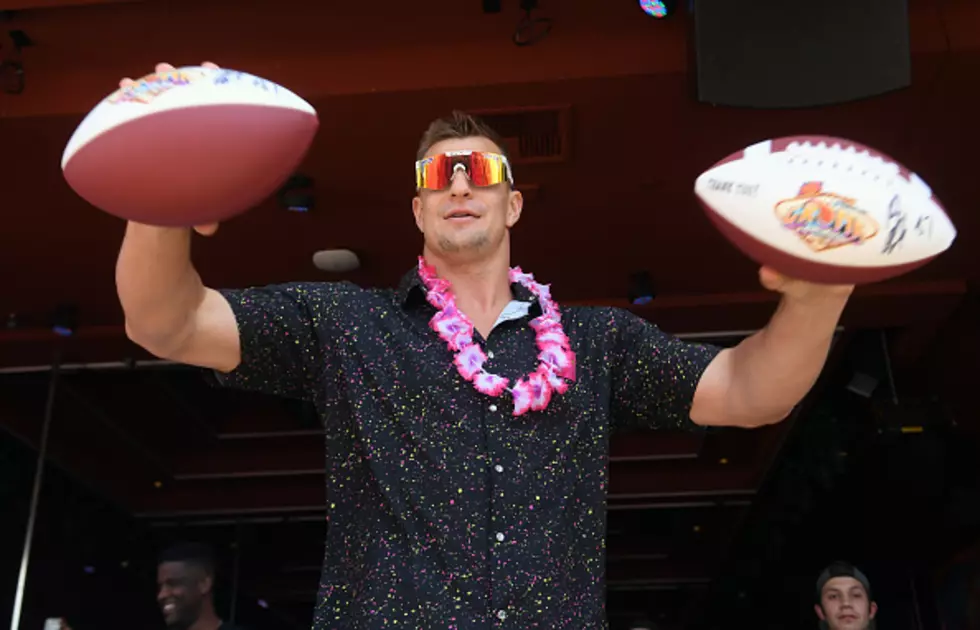 Gronk Dreams Of Catching TD's From This New York QB
Getty Images for Encore Beach Cl
Make no mistake, Rob Gronkowski is enjoying life away from the football field. If he's not, he's a better actor than most thought. However, does Tom Brady's former touchdown down catching machine ever think of grabbing TD's from another quarterback? Well, it seems like he has.
According to friend of The Drive with Charlie & Dan, Ryan Talbot of syracuse.com, their is a certain QB that leads one of the New York teams that Gronk would like to hook up with. The former New England Patriot and Tampa Bay Buccaneer was on FanDuel's Up & Adams to promote his $10 million Super Bowl Kick.
Gronkowski opened up to host Kay Adams when asked besides TB12, who he would like to catch pass from. Being a kid from western New York, and who plays QB out there, his answer wasn't a big surprise. "In a dream world, I'll go with my hometown team, the Buffalo Bills, once again. If you just watch Josh Allen go out there and play, he plays the game freely. It also looks like he's having the most fun out there out of any QB in the whole NFL." Gronk didn't stop there with his complimentary analysis of Allen.
"And on top of it, he knows how to extend a play. I love watching a quarterback that looks like they're about to get sacked by three defensive linemen then somehow escapes the pocket and runs around, jukes a linebacker behind the field and then just whips the ball down the field 50 yards for a touchdown. Just his play is unbelievable and electrifying," Gronkowski told Adams. No doubt that the Bills Mafia would have enjoyed watching their hometown boy catch touchdowns from #17. So what's up with the $10 million Super Bowl Sunday field goal?
Ryan Talbot reported that Rob Gronkowski has an endorsement deal with FanDuel. So, during the Super Bowl this year, Gronk will attempt to kick a field goal. If the former tight end makes the kick, $10 million in free bets will be shared among FanDuel customers who made a wager of at least $5 on the game. Good luck to Gronk. He's an amazing athlete and tremendous under pressure but a field goal kick is a different skill. You can decide from there if he is worth a wager or not.
Ten New York Teams, Ten Insane-But-Possible 2023 Predictions
With the new year comes new expectations, and in 2023, these predictions for each New York professional sports team are so crazy, they may just come true.
Famous Godfather Car Found!
The crew from the YouTube Channel
Hagerty
have made some amazing barn find discoveries. On this trip they causally stumbled upon the 1941 Lincoln Continental used in the filming of The Godfather in 1972.
See The 10 New York Cities Most Likely To Have Ghost Or UFO Sightings
Over the last few years, the discussion of UFOs certainly become a less taboo and more mainstream topic. Even government officials seem to be acknowledging sightings more frequently. Throw in ghost sightings, and there is just a lot of crazy stuff we just cannot explain. It turns out, the state of New York is a hotbed for these "supernatural" sightings. Since these sightings have been recorded, these are the 10 New York cities with the most supernatural occurrences according to
Great Lakes Stakes.
Including 2 in the Capital Region!