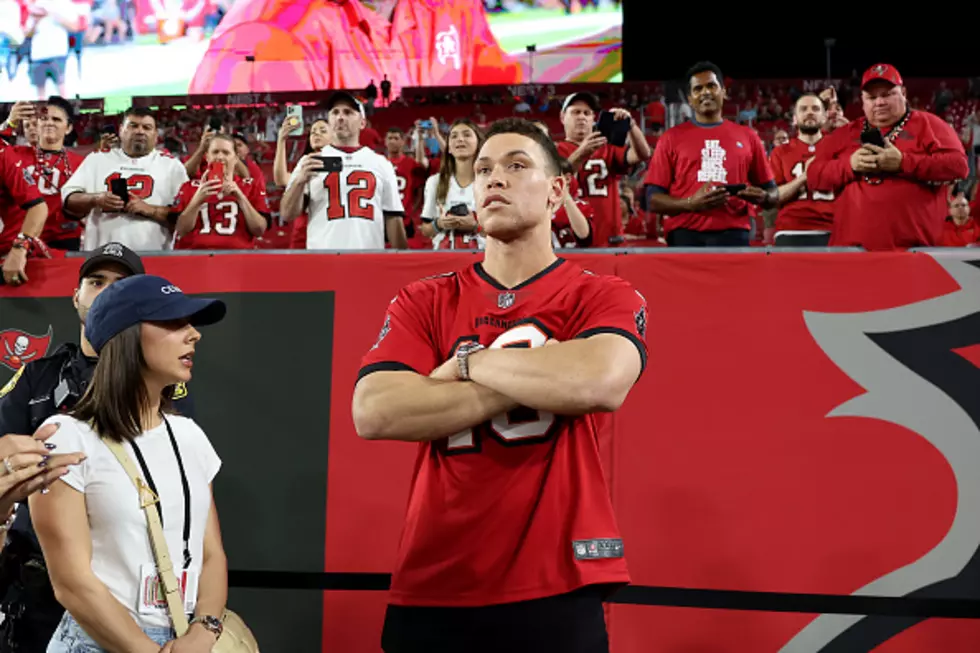 Judge Pursuit Left New York Yankees Behind With Holes To Fill
Getty Images
The New York Yankees accomplished their top priority of the 2022 MLB Winter Meetings. They brought Aaron Judge home, making him the highest paid position player in the game, for now. That celebration didn't last very long, as general manager Brian Cashman left San Diego with a roster still marred with question marks.
Assuming Aaron Judge is the Pinstripes' every day right-fielder and Bronx native, Harrison Bader is in center, who will be the every day left-fielder? Did rookie Oswaldo Cabrera earn a position out there? Cabrera played well but isn't quite a sure thing, yet. Therefore, Brian Cashman may continue to try to get Bryan Reynolds from the Pirates. However, other ballclubs need Reynolds more and are willing to pay. Cashman is rarely willing to give Pittsburgh fair value for any of their players. Free agent, Andrew Benintendi is my pick as the Bombers left-fielder next season. If Cashman misses on the ex-Red Sox star, another Boston cast-off Jackie Bradley Jr. could be an option.
Let's talk about an infield full of questions, except, of course, first base with Anthony Rizzo. Will rookie Oswald Peraza be the Opening Day shortstop or will it be minor league sensation, Anthony Volpe? Maybe it's insurance policy Isiah Kiner-Falefa? What happened to Carlos Correa or one of the other top shortstops on the market? Will DJ LeMahieu be healthy for spring training 2023? The Yankees have said a definitive, "not sure"???
Could Cashman trade second baseman, Gleyber Torres coming off of his 24 home run season in 2022? Should Josh Donaldson be penciled in as the every day third baseman? Well, Torres was 6 for 34 in the playoffs and Donaldson was 5 for 29. Neither has helped this team beat the Astros in October, so "yes" the Yankees should trade and get value for Torres and "no," they definitely need a better option at third base offensively. Donaldson is an above average defensive third baseman but too many times, Donaldson was a hole in the line-up.
Ok, now designated hitter. Oh yeah, that position stunk in the playoffs for the Pinstripes last year. Can Giancarlo Stanton play in more than 110 games, like he did in 2022, next season? If he can't, who is the designated hitter? Where is the Yankees power coming from when they pitch around Aaron Judge. In 284 postseason at-bats in 2022, the Yankees mustered 12 home runs. Five of those homers came from Bader. Judge, Stanton and Rizzo had 2 each. This is an area the Yankees have to improve.
The Yankees catching position seems to be Jose Trevino's to lose. Trevino hit a whopping .045 in the postseason. Kyle Higashioka wasn't much better hitting .000. Both provide solid defense behind the plate and the pitching staff likes throwing to them. Yankee pitching may have question marks but overall, pitching is a strength. Pitching depth is a real strength for New York and that's why they got to where they did against the Astros. The Yankees need more clutch players like Aaron Judge and Harrison Bader. Free agent Andrew Benintendi and another power bat would definitely fill a few holes nicely for manager Aaron Boone for the holidays.
Ten Stories That Shocked New York Sports Fans in 2022
2022 was anything but ordinary for New York's sports teams, and these ten stories left fans shocked, amazing, and even a bit disappointed during the year.
See the Capital Region's Top 25 Google Searches in 2022
The Albany-Schenectady-Troy metro area had people with curious minds in 2022, and these were the 25 topics that were searched most on the search engine Google.
Capital Region Gas Prices Under $3 a Gallon
Here are 6 of the cheapest gas stations in the Capital Region, one of which is currently under $3 a gallon.