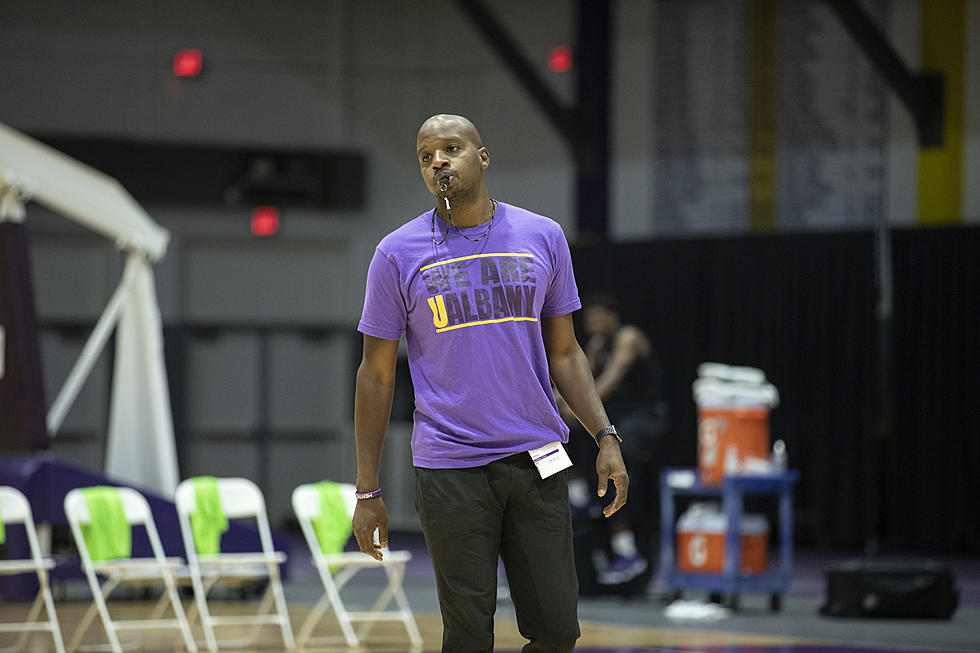 UAlbany Hoops Coaches' Show Starts Monday on 104.5 The Team
Patrick Dodson
This week the University at Albany announced an expanded partnership with ESPN Radio 104.5 the Team that will feature a new basketball coaches show throughout the 2021-22 season. Head coaches Dwayne Killings and Colleen Mullen, along with select student-athletes, will join ESPN Radio 104.5 The Team's Charlie Voelker and Dan Bahl every Monday from 6:00 – 7:00 p.m. live from City Line Bar & Grill for a weekly segment entitled 'Drive the Lane with UAlbany Hoops'.
"We are thrilled to expand our relationship with ESPN Radio 104.5 the Team and City Line Bar & Grill," said UAlbany Director of Athletics Mark Benson. "This dedicated programming will help widen the media footprint for both the men's and women's basketball programs and the university as a whole throughout the Capital Region this season."
The first scheduled air date for the new partnership is Monday, November 1st. UAlbany fans and listeners of The Drive with Charlie & Dan are invited to come out to City Line Bar & Grill to join Coach Killings, Coach Mullen, student-athletes in welcoming in the new show. Food and drink specials will be available on a weekly basis as the teams embark on their new seasons and talk hoops every Monday.
"We take great pride in not only providing our listeners with the best local sports content in the area, but also in providing our listeners with inside access to the teams they care about the most," said Kevin Rich, Market President/Chief Revenue and Content Officer of Townsquare Media Albany. "That's why we are thrilled to expand our relationship with UAlbany in this capacity."
"City Line Bar & Grill is a huge supporter of UAlbany Athletics and we're so excited to continue to strengthen our relationship to support the Great Danes," added City Line Bar & Grill Owner/Operator Robert Malkus. "Hosting ESPN Radio 104.5 the Team and the UAlbany coaches, administrators and student-athletes gives our guests an intimate opportunity to share their passion and excitement for the Great Dane basketball programs that they're unable to get anywhere else."
New Great Danes men's basketball coach, Dwayne Killings is excited about the new show. "This is a great way for the Capital Region to get an inside look at our programs. Not only will fans get a new and unique perspective, but it also provides an opportunity for myself and my staff to meet and get to know some of the dedicated Great Dane fans in person at an amazing venue."
Women's basketball coach Colleen Mullen thinks this is a great opportunity for fans and her program. "Thank you to City Line Bar & Grill and ESPN Radio 104.5 the Team for creating such a unique experience for the family, friends and fans of UAlbany Men's and Women's Basketball. Coach Killings and I are excited to share our enthusiasm for UAlbany Basketball and provide the community a deeper, behind-the-scenes view of our programs. I know our student-athletes will be excited to participate in the show and share their experiences with the Capital Region." Be sure to stop by City Line Bar & Grill every Monday between 3p and 6pm for The Drive with Charlie & Dan and then Drive the Lane with UAlbany Basketball from 6p to 7pm.
KEEP READING: Here are 50 of the most famous sports goofs