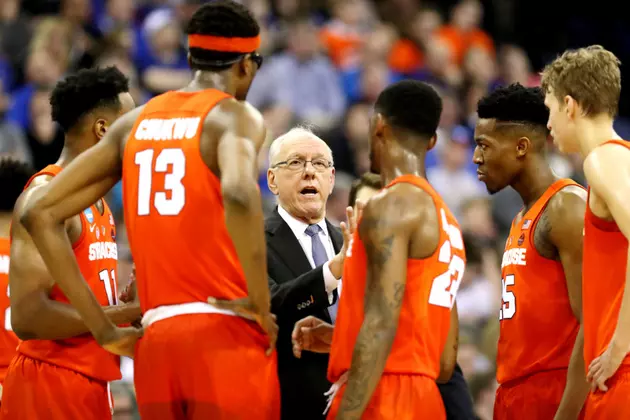 Will Syracuse Basketball Make The NCAA Tournament?
Getty Images
Last night, the Syracuse Orange basketball team, shocked the number one ranked Duke Blue Devils at Cameron Indoor Stadium, 95-91. The loss for Duke was the first in their last ninety games as the number one ranked team in the country in a match up at home against a non ranked opponent. The victory for Coach Jim Boeheim's Orange helps boost the team's NCAA tournament resume. However in similar fashion to the past four seasons, Syracuse basketball seems to be squarely on the "bubble" for an at large tournament bid.
The Orange have lost five games this season (Oregon, UConn, Buffalo, Old Dominion and Georgia Tech). Only one of those teams is currently ranked in the AP Top 25 and none of the five have solidified their resume enough yet to guarantee themselves an NCAA tournament bid.
The lack of scoring for Syracuse still has me believing this team will likely not make the tournament. Tyus Battle needed a season high thirty two points to keep the Orange competitive in the game.  Duke shot a school record amount forty three three pointers along with two contributors not playing a majority of the game. Yes, the Orange were good enough to beat Duke but offensive out puts like their 31.6 shooting percentage against Georgia Tech still causes me to be skeptical that the Duke performance can be a constant offensive showing. I hope I am wrong, but the lack of offensive consistency still makes me believe this Syracuse team will not make the NCAA tournament.
Do you believe Syracuse basketball will be selected to play in this year's NCAA tournament? Let us know your answers below.