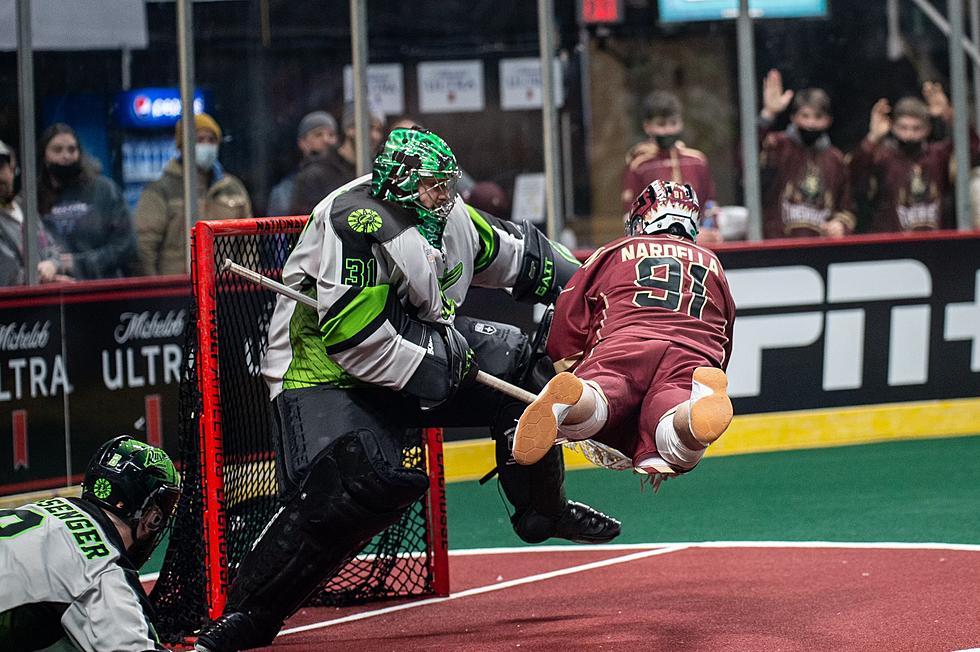 Will The Albany Firewolves Win Their Home Opener On Saturday?
Kathleen Helman
It is year two of the Albany Firewolves after a very exciting year one that saw them reach the playoffs.  They have their home opener this Saturday night at 7 p.m. at the MVP Arena.  All fans are encouraged to wear black for a blackout which should make for an awesome atmosphere.  The crowds are always great at home and the fans always get really into the games.  Music is constantly playing and the Firewolves do an awesome job marketing their games and promoting the fun and also the team.  There are so many young fans that are always smiling and having a good time.  I covered many of their home games last year and enjoyed every second of it and am looking forward to covering many more this season both radio and TV side.
The Firewolves are off to a 1-0 start after beating the Buffalo Bandits 11-10 on December 3rd.  They had many key offseason acquisitions to improve the team and still have Dougy Jamieson between the pipes in goal.  We've had head coach Glenn Clark on many times for our Follow The Pack segment every Wednesday right here on Big Board Sports at 10:30 a.m. and 12:45 p.m.  Coach Clark has a really solid group but they have a tough matchup this Saturday vs the Rochester Knighthawks.  They have UAlbany lacrosse legend Connor Fields as a member of their team.
MJ and I had on Terry Bradford earlier this morning as part of Follow The Pack.  Terry is the Firewolves Director of Ticket Sales and Service.  He is very excited about the second year of the Firewolves especially the home games here at MVP Arena.  Below is our full interview with him.
I hope the Firewolves improve to 2-0 and beat Rochester this Saturday at home in front of their passionate fans.
See The Best Photos from the Albany FireWolves' Historic Opener
December 18th, 2021 was a day circled on the calendars of Capital Region lacrosse fans for months. Check out the best photos from the Albany FireWolves' home opener!
Did You Know These Ten Bands Have Sold Out Albany's MVP Arena?
The MVP Arena (or whatever it was called at the time) has welcomed a number of legendary bands, and these ten left no seats available when they took the stage.