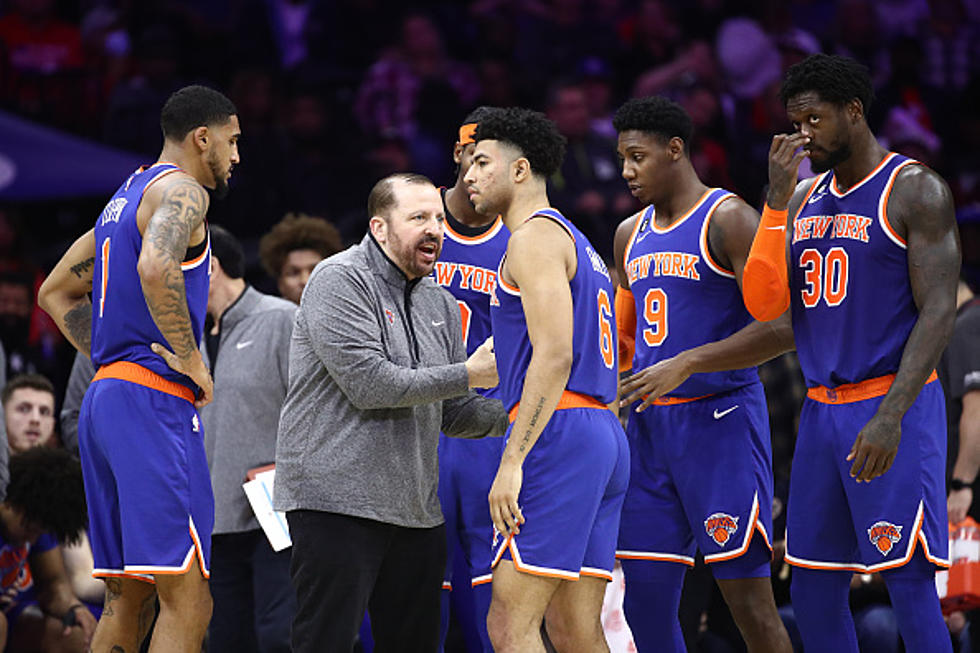 Can The New York Knicks Beat The Miami Heat To Advance?
Getty Images
What a time for New York Knicks fans as their team just won their first playoff series in a decade as they completely dominated the Cleveland Cavaliers.  The Knicks were the far superior team in every facet and every player stepped up.  You hope Julius Randle is okay with the sore ankle and RJ Barrett had three massive games and stepped up when everyone was doubting him including his own fanbase.  Jalen Brunson was tremendous all series long and is the real difference with this team from past years.  Tom Thibodeau deserves some more credit as he is doing quite a job coaching this team.  It is pretty ironic that the Knicks eliminated Donovan Mitchell when Knick fans wanted him so bad over the summer.  Below is my quick take on this as seen in the Times Union:
The New York Knicks won their first playoff series since 2013 because they were the much better defensive team. Mitchell Robinson turned in a dominating performance on the glass with 18 rebounds in Game 5 against Cleveland. Defense and rebounding is all about effort, and if the Knicks continue to win those two categories on the stat sheet, they can win a second round series too.
MJ and I discussed the Knicks Thursday morning right after their series win right here on Big Board Sports.  MJ is a massive Knicks and obviously was super excited as expected.  Below is our full conversation on this.
Next up for the Knicks is the Miami Heat who will be a tough out with Jimmy Butler and head coach Erik Spoelstra.  They also have local native of Schenectady Pat Riley as the owner.  It should be an awesome series and it all kicks off Sunday at 1 at Madison Square Garden.
Ten NY Knicks' Players Who Got in Trouble with the Law, and Why
Pro athletes are just like us in certain ways, including that every now and then, they get in trouble with the law. These former NY Knicks had this happen.
House Fire Devastates Family of Long-Time New York Knicks' Voice
New York Knicks and basketball fans worldwide are sending their support to broadcaster Mike Breen and his family, who lost their home on Long Island in a fire.