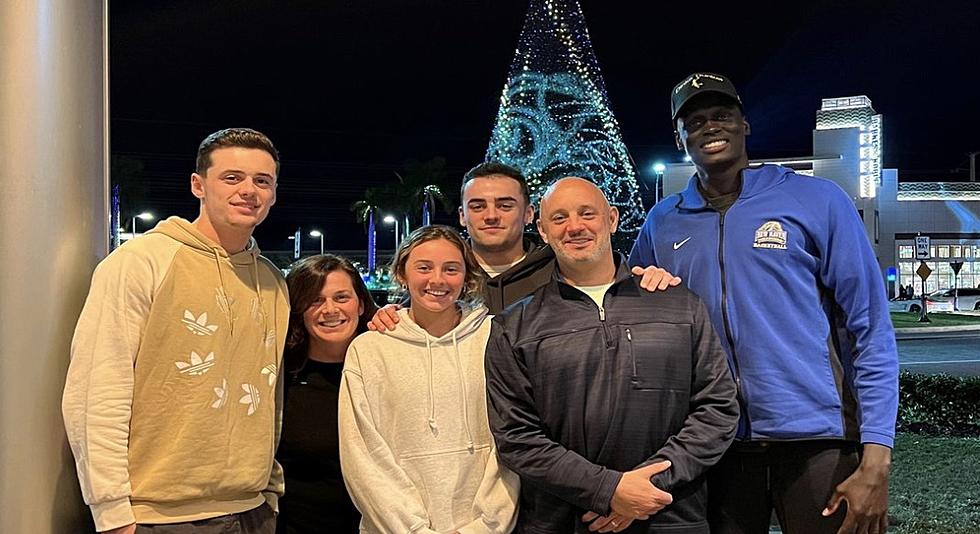 College Hoops Family Tree Branches From Upstate New York
Twitter/Sam Peek
Perspective is an important characteristic of successful college athletes. When your family is full of them, you probably have an advantage. One upstate New York family is making the most of that upper-hand and keeping mom and dad busy, at the same time.
Ryan and Dana Peek of Poughkeepsie finally get a break when March comes to a close and the college basketball season wraps up, for the time being. The Peek's are parents to three college basketball players and host parents, or pretty much an adoptive family to another student-athlete from Sudan.
According to a great article by Stephen Haynes of poughkeepsiejournal.com, Ryan Peek was three-sport athlete at Our Lady of Lourdes High School in Poughkeepsie. Peek went on to play college football and become a successful high school coach. Now, Ryan and his wife Dana spend their days juggling schedules to watch all of their children play the sport that is in their blood and one that has come from far away to join their family's love of basketball.
Majur Majak, a 7'-1" center at New Haven University, came to live with the Peeks six years ago. Majur joined a family of college basketball student-athletes. Sam Peek just finished his collegiate playing career at Stetson University a few weeks back. Sister, Kate just completed her freshman season at Fairfield University and brother Hayden just wrapped up his junior season at New York University.
How does dad feel about the kids following in his collegiate athlete footsteps? "They've put in a lot of work to make this happen and we're incredibly proud of them. Being a college athlete comes with a lot of stress, so it's important to keep it fun. I'm so glad they're enjoying this together," Ryan Peek told poughkeepsiejournal.com.
What about Kate Peek? Does she feel lucky about being the only daughter in the group? "I'm glad I didn't become a ballerina. That's part of what makes this so much fun, being able to share a common interest with your whole family and having something that we're all involved in and passionate about." Very cool story about an interesting family that gave their kids a lot to think about in their lives ahead.
The Fast 5 - Five of the Fastest Cars In the World
As of 2020 these cars were considered some of the fastest production cars in the world.
The Capital Region's 10 Best Sandwich Shops [RANKED]
Is there a more satisfying meal than a perfectly crafted sandwich or sub? It's the perfect balance of deli meats, condiments, toppings, and bread - and making it perfect is an artform. So in our quest to find the best sandwich artists in the Capital Region, we asked our listeners on
Facebook
who serves up the best sandwiches and subs in the area, and these are the 10 best based on their votes! Happy eating!
SEE IT: Final Day Of Another Awesome NCAA Tourney In Albany
Sunday's Men's Basketball NCAA Tournament 2nd Round action at the MVP Arena in Albany, New York