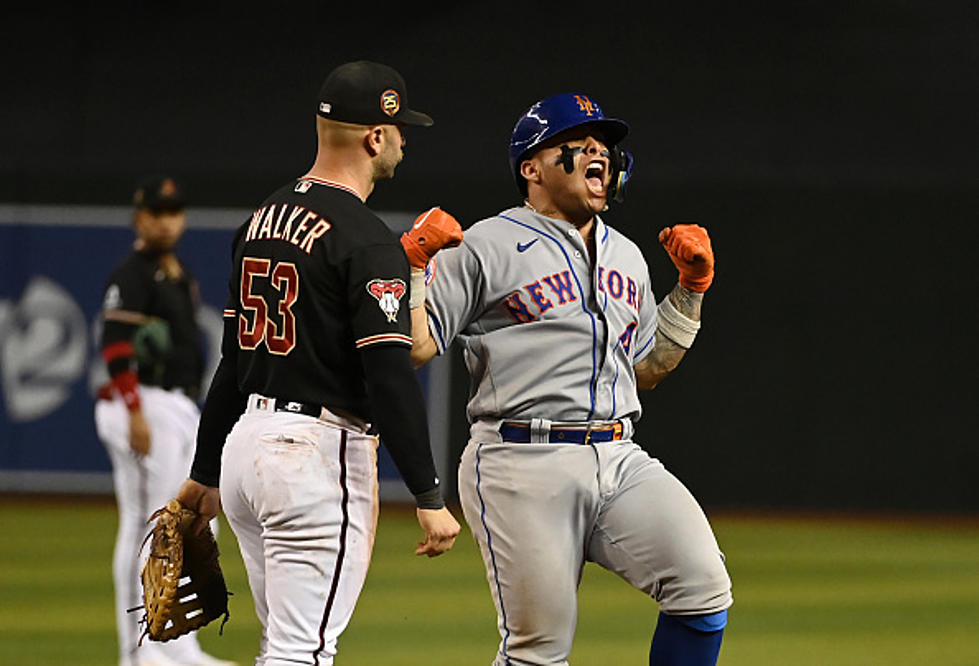 Despondent New York Mets Fans, 'Ya Gotta Believe'
Getty Images
'Ya Gotta Believe' was a slogan that New York Mets fans clung onto 50 years ago this summer. Famous Mets' reliever Tug McGraw, father of country music star Tim McGraw, coined the phrase during the Amazin's improbable run to the World Series in 1973.
That was five decades ago. The Mets have won a total of ONE World Series since then. By the way, they lost that '73 series to the Oakland A's. Now, the beleaguered blue and orange faithful are hanging onto the last threads of hope for the 2023 season, despite the highest payroll in MLB. However, a recent winning streak may be just enough to grasp onto, for a fan base that has seen its fair share of disappointment.
Wednesday's final-strike, come-from-behind victory over Arizona by the home-run-swinging hands of rookie Francisco Alvarez, not only sent the Mets players into a wild celebration but more importantly it gave New York their second consecutive series victory, against playoff-bound teams, and kept their small four-game winning streak alive.
Exactly 50 years later, the statement 'Ya Gotta Believe' applies to the fanbase of these New York Mets, as well. Buck Showalter's squad won 101 games last season, with basically the same team. Pitching performances are on the upswing recently. Right-hander Justin Verlander pitched 7-strong innings against the red-hot San Francisco Giants on Saturday. Closer David Robertson shut the door on Arizona Wednesday for his 13th save, after Kodai Senga held the Diamondbacks to one-run over 8 innings for his 8th win. Say what you want about the Mets line-up, the Mets are built on pitching and they are starting to look like the team that owner Steve Cohen envisioned back in February.
The Mets head to San Diego this weekend for the final series before the All Star break, hopefully to pay the Padres back for last fall. New York currently sits 6.5 games back in the Wild Card race with 75 games remaining. That is more than doable for a $346 million payroll. The Mets are playing better and have the talent to make a run at the National League Wild Card and then, who knows? Francisco Lindor, Pete Alonso, Jeff McNeil and Starling Marte should all statistically have better second parts of the season. Verlander and Scherzer should statistically be better. If some of those come to be, the Mets will be in the playoff hunt. So, 50 years later, as Tug McGraw would say, 'Ya Gotta Believe'.
Dumbest Driving Moves Seen In New York
You have spoken and these are the dumbest driving moves seen in New York State. Be safe out there.
2023-2024 Capital Region Concert Calendar
This Concert Calendar is updated regularly so keep checking back for the latest on Saratoga Performing Arts Center, MVP Arena, The Egg, the Palace Theatre and much more!
These are New York's Ten Biggest Phobias, What are You Afraid of Most?
Most New Yorkers suffer from some kind of phobia...an extreme or irrational fear...and these ten phobias were searched for most often online.