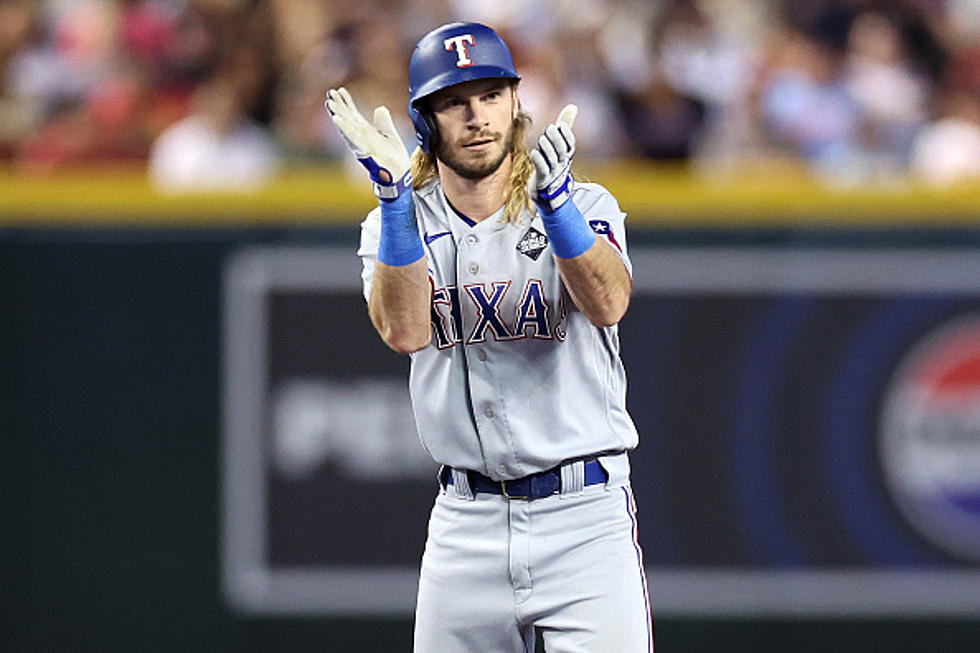 Lessons Learned At SUNY Carry Into The World Series
Getty Images
In 2012, the Stony Brook Seawolves became the first and only State of New York University or SUNY school to make it to the College World Series. Out of 297 Division I baseball programs at the time, head coach Matt Senk took his America East championship team through the 64 team tournament and made it to the final 8.
In order for a SUNY school or any team from the northeast, for that matter, to make it to the final rounds of the tournament in Omaha, Nebraska, they have to be incredibly special. One of the members of that amazing Stony Brook team now finds himself one game from a Major League Baseball World Series Championship, Texas Rangers outfielder Travis Jankowski.
Following an injury to Rangers star right-fielder Adolis Garcia, Jankowski was forced into action in Game 4 on Tuesday and, in true Seawolves form, seized the opportunity. In his first World Series appearance, the 32-year old went 2-for-4 with 2 RBI's in the Rangers. Even though Travis Jankowski is 11-years removed from that incredible Stony Brook team, the former Seawolf doesn't forget the lessons that got him here.
In an article with friend of 'The Drive with Charlie & Dan,' Dave Lennon of newsday.com, Jankowski talked about a text exchange that he had with his former Stony Brook baseball coach Matt Senk prior to this year's playoffs, regarding the Rangers difficult path as a Wild Card team. Jankowski said, "I texted him, hey coach, remember when we had to win two on the road at LSU and we lost the first one? Thanks for showing us the ropes." Stony Brook defeated SEC baseball powerhouse LSU the next two games, in Baton Rouge, to advance to the World Series. Jankowski knows why and has been ready for his next opportunity ever since.
"You see your name in that World Series lineup, you get a little bit of nerves," Jankowski told newsday.com. "I think you got to use that to your advantage, right? People say, 'pressure, pressure.' To me, that's a privilege. I put a lot of hard work in for this moment. So to be able to go out there and produce means a lot." Produce he did. Travis Jankowski continues to make his Stony Brook brethren very proud.
Study Ranks Top Ten New York Colleges, SIX Upstate NY Colleges Included
A recent study compared 800 higher-education institutions in the United States, and these New York colleges were regarded as the best in the state.
Gallery Credit: Dan Bahl
Google Auto-Completes 'Upstate New York' Search with These Words
Out of curiosity, we typed "Upstate New York" into the search engine Google, and these were the ten terms that auto-filled the search bar.
Gallery Credit: Dan Bahl
Study Names 2023's Ten Worst 'Small Cities' in Upstate New York
A study ranked every "small city" in America, and while Saratoga Springs was named one of the country's best, these NY cities were a few of the country's worst.
Gallery Credit: Dan Bahl