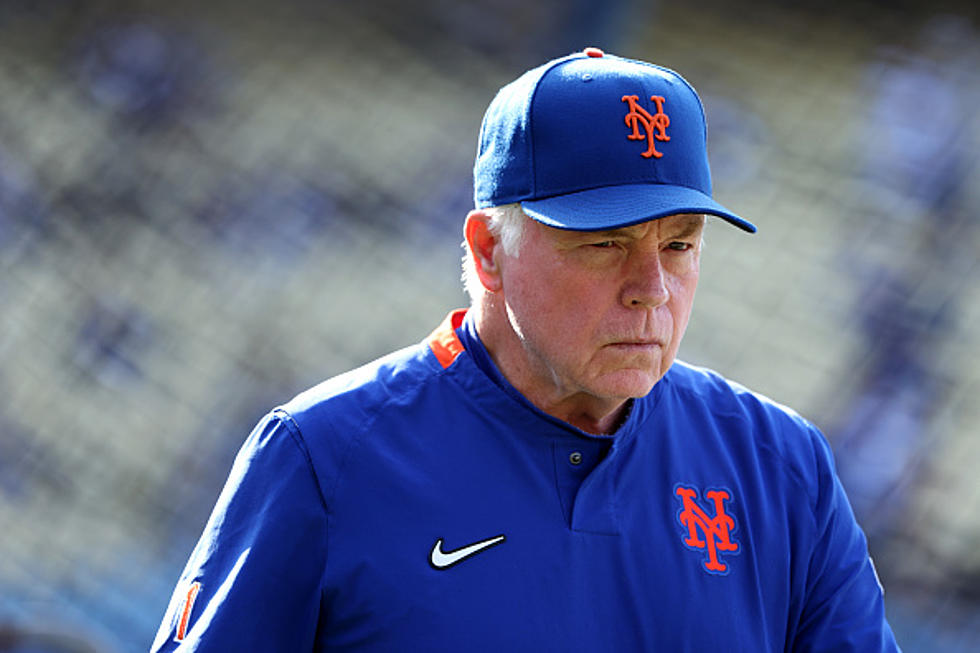 Money Can't Fix The Nightmare Facing Buck And The New York Mets
Getty Images
If one player was a lock to succeed for Buck Showalter in 2022, it was closer Edwin Diaz. When Timmy Trumpet's "Narco" began, that usually meant the game was ending for the Mets' opponents. The "lock" took a big hit in the WBC on Wednesday and in essence, so did the World Series dreams for Buck and the Mets.
Wednesday's nightmare took shape following Puerto Rico's 5-2 victory over the Dominican Republic in the World Baseball Classic. Diaz had just closed out the victory and was celebrating with teammates when his knee gave out. Buck Showalter's worst fear with Mets players participating in the WBC was coming to fruition.
Puerto Rico's manager Yadier Molina told Jeff Passan of ESPN.com after the game, "I didn't see it right away. I was hugging our coaches in the dugout, and when we looked up, Edwin was on the ground. I didn't know. I didn't know how to act, I didn't know what to say. It caught me by surprise. It sucks." Yes it does. General manager Billy Eppler can't easily replace the best closer in the game, who he just signed to a $102 million contract in November.
According to nypost.com, a Mets team doctor and their third-base coach Joey Cora were at the game and with Diaz immediately after the injury. The Mets released a statement saying Diaz will receive imaging on the knee on Thursday. The closer position appears to be, for the foreseeable future, in flux for Showalter. This goes along with injuries to an aged starting rotation. Can Buck keep the puzzle together like he did last year with key injuries to former Met Jacob deGrom and co-ace Max Scherzer?
GM Billy Eppler's pitching depth included signing 34 year-old free agent, Jose Quintana. The left-hander struggled in his first appearance with the pitch clock and left with an injury in his second start. Quintana is out until at least July following rib surgery. What about Max Scherzer? He is a year older and couldn't even get through last year without injury. Scherzer was terrible in his playoff start against San Diego, giving up 7 runs in 4.2 innings. Not Good. Will Justin Verlander give a repeat performance of last year? He had better. What about 30 year-old Japanese league free agent Kodai Senga? No one really knows if he will be successful in the big leagues. How about 36 year-old Carlos Carrasco? Sure he was great against bad teams in 2022 but he was terrible against teams over .500. Money can't fix all of these bad dreams that could be a nightmarish 2023 for Buck Showalter and the New York Mets.
GNA Hotshots: Skeeter Creek's 2000th Show at Vapor in Saratoga
Wow! Congrats to Skeeter Creek on their 2000th show! 21 years into the game, SK continues to be one of the best-sounding, hardest-working, talented, energetic, and fun bands the Capital Region has to offer.
On Saturday, a thousand "Creek Freaks" jam-packed Vapor inside the Saratoga Casino for a night many country music fans won't soon forget!
Here are some of our favorite pictures from Claude Sawyer during an epic night of singing, dancing, drinkin', partying, and celebrating with the crew from Skeeter Creek.
Congrats on the 2000 shows and here's to another 20-plus years rocking the Capital Region and beyond.
Live Simply Yet Comfortable in This Adorable Tiny Saratoga House For Just $76K!
Looking to downsize yet live comfortably? This tiny house may be just what you are looking for. It's a two-bedroom tiny house that is ready to roll. You find the land and they will park it there for you. It is located in Saratoga Springs. The main level is 208 square feet and the upper two lofts add another 130 square feet. There is a composting toilet, and hookups for a washer, dryer, and refrigerator. The tiny house has a full electric panel, drainage, water, plumbing, and a full shower. The kitchen has a cute farmhouse sink. There is plenty of storage underneath the stairs, tons of natural light, insulation, and beautiful cherry floors. This adorable
tiny house
is for sale for just $76,000.
Few Have Seen Inside this $3.5M Stunner in Downtown 'Toga