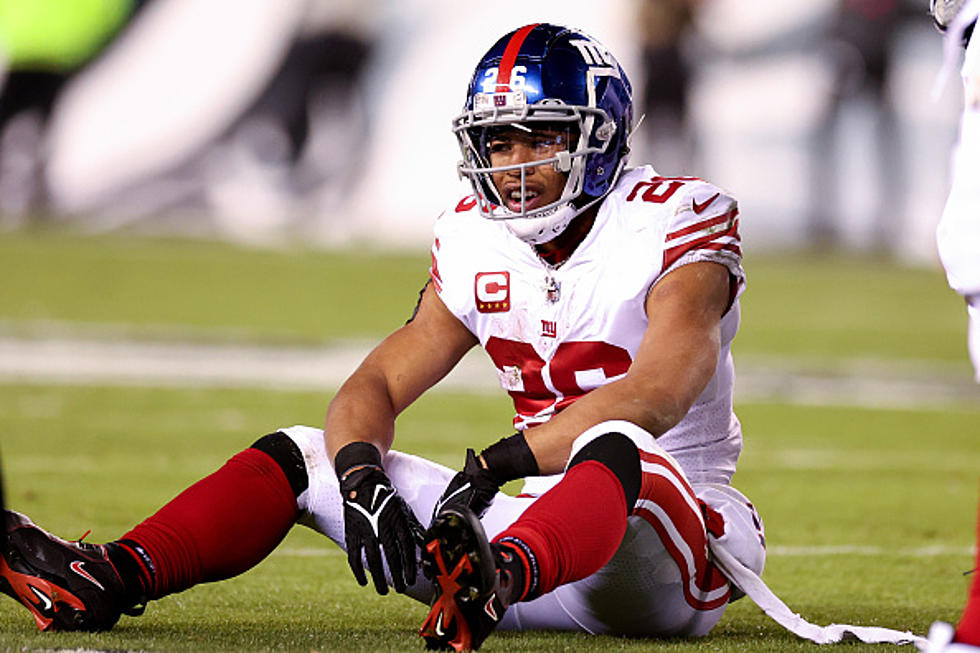 Are The Giants Significantly Better With Saquon Barkley Now Back?
Getty Images
When we were at Giants training camp in East Rutherford New Jersey last Thursday the buzz was high surrounding the Giants as they had signed several of their players back for the 2023 season including Andrew Thomas and Saquon Barkley.  Saquon got way less money than he deserved and hadn't spoken with the media until he did last Thursday.  The Giants are obviously a way better team with him in the backfield as he is a dual threat RB who can catch and run with the best of them in the NFL.  Below is my quick take on this from The Times Union:
You could tell when Saquon Barkley spoke to the media on Thursday that he is not happy with the front office of the New York Giants because he didn't get the contract and the money he wanted and thought he deserved. But at least he was honest and said sitting out the entire season was not the right move for his career. Barkley is a standup guy who wants to play football and wants to be around his teammates. Saquon didn't want to let his teammates down and he believes the Giants are going to have another strong season. He thinks he's going to have another big season and that's all he's concerned about at this time. Most running backs don't get paid the big money, and Barkley understands the business side of it, but it doesn't mean he has to like it.
The Giants won't be worse with Saquon coming back and I do think they have the right culture in place with Brian Daboll and Joe Schoen.  We'll see what happens in 2023 but it's good to see Saquon back on the field with the New York Giants.
New York Giants' Schedule Leaked! Here are Their 2023 Opponents
The New York Giants' 2023 schedule has leaked hours before the official NFL schedule release, and here is every game that Big Blue will be playing next year.
Ten Contract Decisions That Will Dictate New York Giants' Future
A pivotal offseason awaits the New York Giants, and the decisions made by GM Joe Schoen will say a lot about where the team is headed under the new regime.