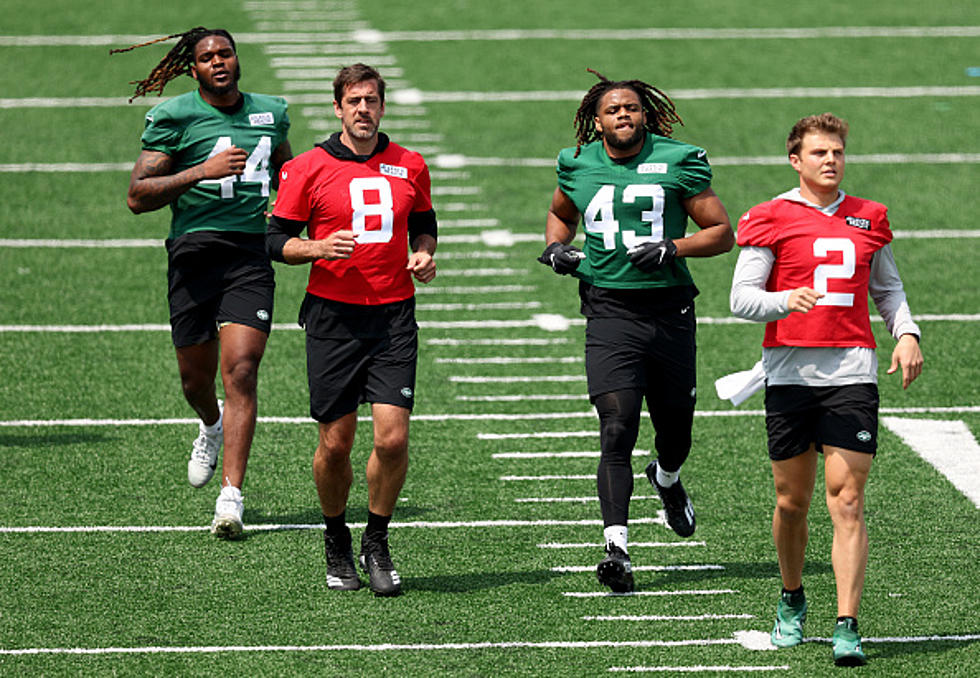 Are We Buying In Too Much With These 2023 New York Jets?
Getty Images
The New York Jets have a lot of buzz surrounding them for this upcoming 2023 season.  It is deserved when you have Aaron Rodger as your new quarterback.  The Jets are featured on HBO's Hard Knocks this season and let the drama and entertainment begin.  I will give Aaron Rodgers some credit for taking a $35 million pay cut.  He has expressed his excitement for being a new member of the Jets and is grateful for Woody Johnson, Joe Douglas, Robert Saleh and company bringing him in.  You already have a really good and young defense and the offense is now way better.
I think it is very important to acknowledge that the Jets have a brutally hard schedule and the first six games are very important for them.  That is the barometer for their season in my opinion.  Aaron Rodgers has had nothing but nice things to say about backup quarterback Zach Wilson.  It will be great experience for Wilson who struggled during his rookie season to learn from the great Aaron Rodgers.  The Jets deserve the media attention and I am confident that Aaron Rodgers can lead them to the playoffs to snap their streak of over a decade.
I still wouldn't go too crazy over this Jets team as they will be in contention but I don't about the Super Bowl.  They have the talent but they could get in their own way.  Robert Saleh and Aaron Rodgers do have a great relationship however.  I am excited to watch this 2023 Jets team and you just hope that they all stay healthy.
Ten Iconic Albany, NY Sports Items Available to 'Buy it Now'
From the Albany Patroons, to the Albany-Colonie Yankees and beyond, these ten incredible Capital Region sports collector's items could be yours right now.