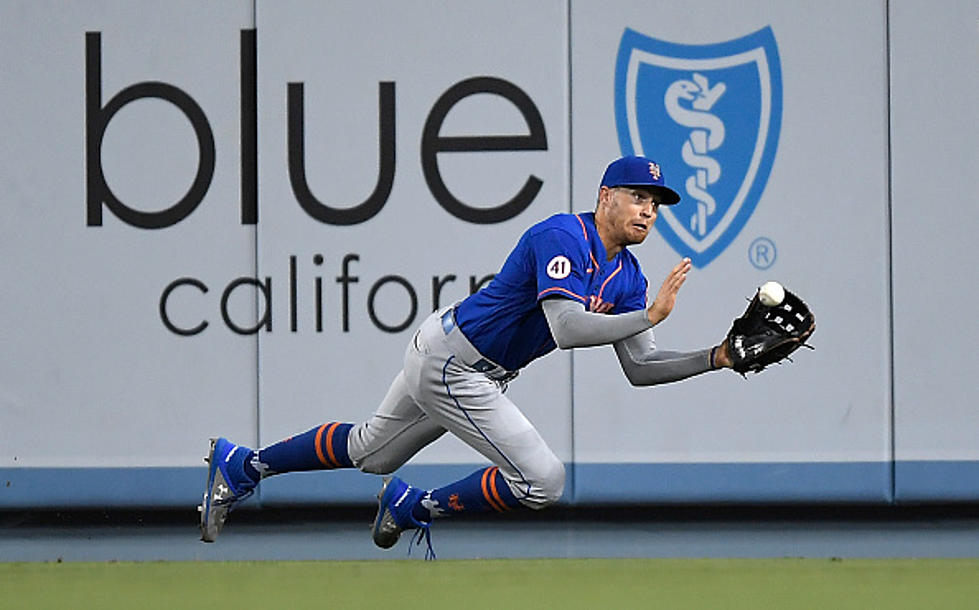 If New York Mets Don't Act Fast, Nimmo May Swim Away in 2023
Getty Images
One bright spot for the New York Mets over the last few years has been the development of outfielder Brandon Nimmo. The lanky, athletic leadoff man has been getting better and better. Nimmo was selected with the 13th overall pick in the first round of the 2011 draft. Growing up in Cheyenne, Wyoming is a challenge for any aspiring baseball player. Nimmo didn't even have a high school baseball team to play on. His team was an American Legion League team and Brandon stood out enough for then general manager, Sandy Alderson to select him in the 1st round.
Last season, Nimmo improved leaps and bounds in centerfield for the Amazin's, a position he craves to stay in. However, in the off-season, New York signed flashy outfielder Starling Marte, who is most comfortable roaming in-between the left-fielder and the right-fielder. Friend of The Drive with Charlie & Dan, Tim Healey of Newsday sat down with Brandon Nimmo and talked to the young outfielder about staying in center.
"It proved that, hey, if you give me information, if you allow me to make the adjustments, I will give it everything I got," Nimmo told Healey. "I was very, very proud of the difference in the numbers from '20 to '21 and doing what they asked me to do and improving there."
The Mets want to keep this budding star happy. Nimmo will certainly have suiters if he decides to hit the free agent market after the 2022 season. Brandon Nimmo changed agents after last season, opting to sign with top baseball agent, Scott Boras. The high-powered agent will certainly be prepared to extract a huge contract for his new client. According to Tim Healey, "a variety of modern defensive metrics, from Defensive Runs Saved to Outs Above Average to Ultimate Zone Rating, favor Nimmo over Marte, sometimes by significant margins. He is younger and faster, and he made great gains last year with improved speed and positioning." Put that on top of his .393 on-base percentage, and Mr. Boras will have fun with Mets owner Steve Cohen's wallet. I hope that the Mets work quickly to get a contract done with Nimmo, once the lock-out ends.
The Capital Regions 10 Best Breakfast Restaurants [RANKED]
From an omelet with homefries to waffles to a stack of pancakes, these are the 10 best local restaurants to grab the most important meal of the day - breakfast!