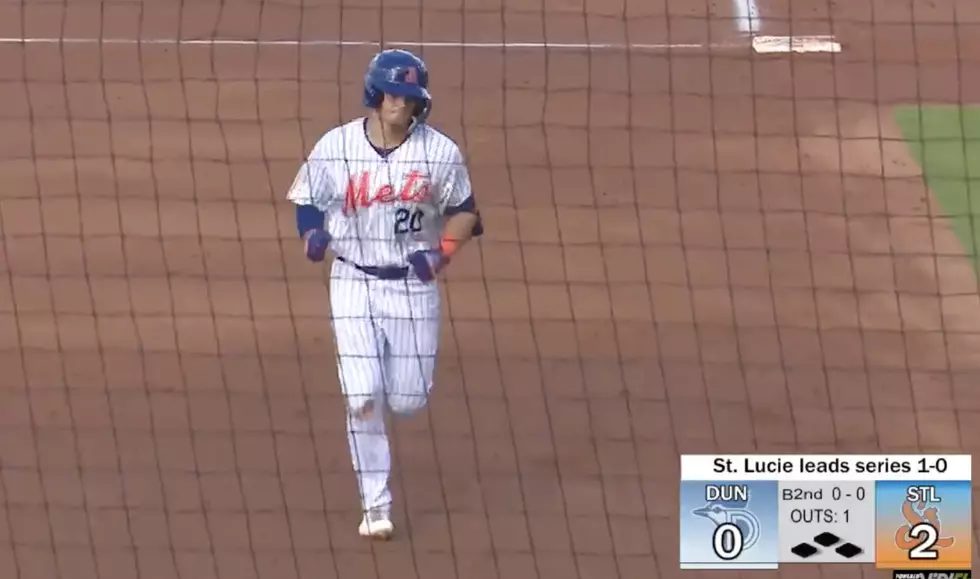 Former Albany Star Helps St. Lucie Mets Win Championship
UAlbany Baseball Facebook
It's not easy to play college baseball in the northeast. The season officially starts in mid-February. Your home field is usually buried by six inches of icy snow. If you are lucky enough to practice outdoors, every batted ball comes with a nice sting, as the wind brings your eyes to tears. Fun stuff. That's why after tearing up America East pitching in 2022, a former University at Albany baseball star got signed by the New York Mets in July. This week he helped the single-A St. Lucie Mets win a championship.
Back in July, former Great Danes infielder Brad Malm signed a minor-league contract with the New York Mets. "I am so excited to begin my professional baseball career with the New York Mets. My family, friends, coaches and teammates have all helped me get to where I am today. I am only going to work harder from here to make everyone proud," said Malm. The shortstop broke out the power early in the season for UAlbany. Malm shortstop blasted eight home runs in the team's first seven games. He finished the season with 15, tying a UAlbany single-season record. Brad Malm also was tied for the most home runs in the America East this year and finished with a .340 batting average.
Tuesday night, in what proved to be the decisive game in the Florida State League Championship, Malm blasted his first professional home run in the bottom of the second inning to make the score 3-0 against the Dunedin Blue Jays. The St. Lucie Mets went on to win the game 6-3, to complete the 2 game sweep. How great is that for Brad Malm? He gets his first professional home run and championship ring all in the same day. Pretty cool.
When the Medford, New York native signed with the Mets, UAlbany Head Coach and Stillwater native, Jon Mueller commented to the media, "We are thrilled for Brad and this great opportunity he has been offered. He put in a ton of work and had a monster season and career here at UAlbany."
In addition to hitting bombs, home runs, according to Great Danes' Assistant Director of Digital Content and Communications, Taylor O'Conner, Malm led the America East in total bases (131) and slugging percentage (.655) and finished in the top five in OPS (1.058), at-bats (200), runs (53), hits (68), and RBIs (49). Not surprising that the Mets found him to be a good fit. Brad Malm is extremely athletic. We wish him the best of luck with the Mets!
Seven Times Saturday Night Live Attacked Upstate NY
Saturday Night Live may be "live from New York" every week, but that doesn't mean the show is always kind to those who live in New York, and these are seven times they attacked Upstate New York.
Click the red title of each photo in order to watch the full sketch on YouTube.
15 Fall Things People in Upstate NY are Most Passionate About!