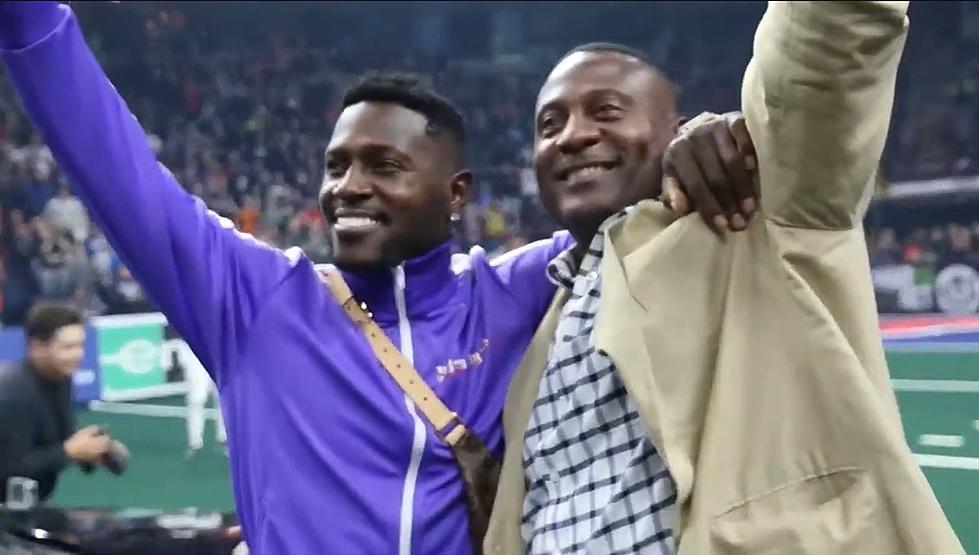 How Big Will The Crowd Be Saturday Watching AB Play At MVP Arena?
Antonio and Eddie Brown (YouTube / Two Buttons Deep)
The Albany Empire storylines never stop.  Ever since Antonio Brown has arrived in Albany there has just been non stop coverage.  Some of it has been good and some of it has been bad.  Yesterday AB signed a contract to be able to play this Saturday night at home at the MVP Arena.  Ticket sales have been down this year and knowing AB will be on the field playing will surely attract more attention.  He even practiced today at Afrims.  You now have a new head coach in Pete Porcelli who is a veteran guy and is an established winner.  And now Roland Rivers III will be back at quarterback throwing passes to Antonio Brown.  The Arena League football field is only 50 yards long so you would think AB will succeed against the secondary guys in the Arena League.  You wonder how many plays he is out there for and we all know he wants to break his father Touchdown Eddie Brown's record.
MJ and I discussed the latest with the Empire earlier this morning right here on Big Board Sports.  It really has been a circus but it's nice to hear that the crowd might be big this weekend and that there appears to be some stability for the time being.  Below is our full conversation on this.
There is certainly a lot of buzz around this weekend and seeing a seven time pro bowl wide receiver in AB on the field playing for the Albany Empire.  And after a slow start this could be the turnaround that both the fanbase and organization need.  I can't wait to be in the house at the MVP Arena for this.
Ten Incredible Photos from the NFL Career of Antonio Brown
Check out these ten incredible photos from a decade-plus in the NFL for wide receiver, Antonio Brown.
Did You Know These Ten Bands Have Sold Out Albany's MVP Arena?
The MVP Arena (or whatever it was called at the time) has welcomed a number of legendary bands, and these ten left no seats available when they took the stage.