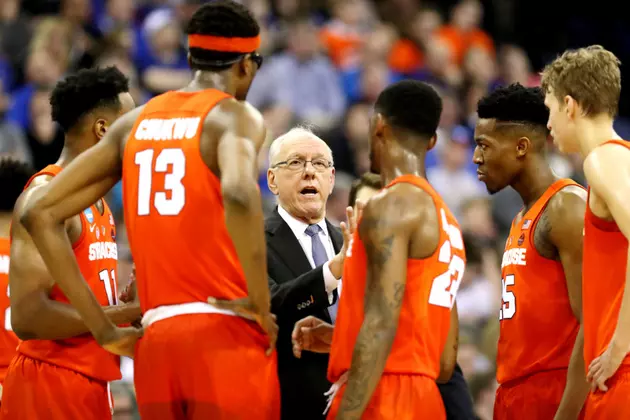 Which New York Team Will Go The Furthest In the NCAA Tournament?
Getty Images
The NCAA Tournament continues tonight as one of the many New York teams in this year's field tips off. Below is my projected finish for each New York based team.
First Game: Round of 68 vs Arizona State
Coach Chris Mullin and his Red Storm prepare for their game against the Sun Devils tonight. I give Coach Hurley and his team the edge in this game as they lost in the Round of 68 last year to Syracuse.
First Game: Round of 64 vs North Carolina
I have said this on air the past two weeks. The term "dynasty" when describing the Gaels program in the MAAC is a bit too much. They have not won an NCAA tournament game. They did not even have a winning record entering the conference tournament. Look for this to be a one and done for the Gaels.
First Game: Round of 64 vs Tennessee
For most  Raiders fans, the fact that the team is back in the tournament for the first time in twenty three years is an accomplishment. The Volunteers are just too strong in this match up.
First Game: Round of 64 vs Baylor
We hear it every NCAA tournament. "Syracuse's zone creates a match up nightmare for teams" The reasons we constantly hear that phrase? Well, that's because it is true. The Orange should be able to beat Baylor with a returning Tyus Battle in the lineup. The tougher match up is Gonzaga in the Round of 32. Rui Hachimura is the type of player that can really do damage inside
First Game: Arizona State/St.John's
The Buffalo Bulls will be the New York team that goes the furthest in this year's NCAA tournament. Coach Oats' team will either get Arizona State/St.John's in the Round of 64. Then a match up with Texas Tech. The Red Raiders are a solid team but after seeing Buffalo in person, I believe their team basketball can handle any team in the country. Look out for the Bulls to make a run to the Sweet 16.
Do you agree with the picks? Which New York state team goes the furthest? Let us know below.